Cedric Richmond announced USDA Debt Relief Plan during SU Ag Center Listening Session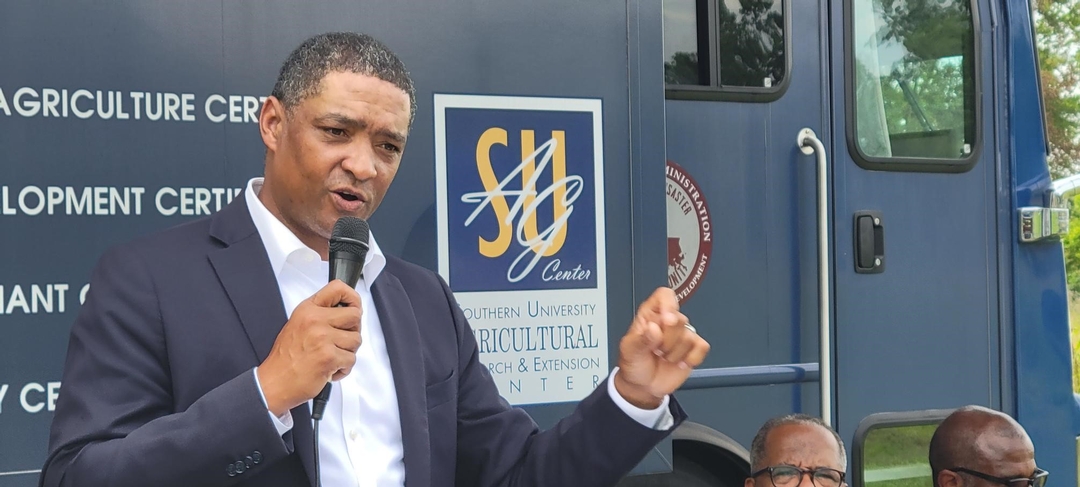 Baton Rouge, La. – Cedric Richmond, Senior Advisor to the President of the United States and Director of the Office of Public Engagement spoke to a group of socially disadvantaged farmers on May 24, 2021, during a listening session hosted by the Southern University Ag Center in St. James, Louisiana.
The session was held to provide information on the debt relief plan's process with borrowers and producers and answer any questions they may have had. The United States Department of Agriculture debt relief plan is part of the recently passed American Rescue Plan.
Historically, socially disadvantaged producers have faced discrimination, preventing them from achieving as much as their counterparts who do not face these documented acts of discrimination. The American Rescue Plan Act (ARPA) seeks to address the cumulative effects of discrimination among socially disadvantaged producers with a program of debt relief.
"The greatness of America lays not in being more inviting than any other nation, but rather in her ability to repair her faults," said Richmond. "And today we take a step towards repairing faults in this country. In fact, we take a $5 billion step towards repairing and righting wrongs that have been here for hundreds of years," he added.
Dr. Dewayne Goldmon, USDA Senior Advisor for Racial Equity to the Secretary of Agriculture, discussed how ARPA 1005 and 1006 will assist farmers and the need to hold additional listening sessions to better under issues faced by socially disadvantaged farmers develop programs and address additional gaps that may still exist.
Goldmon also warned farms of individuals who may ask them to pay a fee to complete their application.
"Once you have the form AD2047 on file everything else is automated. That form is what identifies you as a socially disadvantaged farmer," stated Goldmon. "If anybody is asking you to pay a fee to get this debit payment, I want to know about it because there should be no fee. All the paperwork that is needed to process these payments reside at FSA (USDA Farm Service Agency)," he expressed.
Form AD2047 is available at https://www.fsa.usda.gov/.
Additional speakers attending the event included Congressman Troy Carter, Southern University Ag Center Chancellor-Dean Dr. Orlando F. McMeans, Vice Chancellor for Extension and Outreach Dr. De'Shoin York, Agriculture and Natural Resources Program Leader Zanetta Augustine, and USDA National Outreach Director for the Office of Partnerships and Public Engagement Allison Johnson.
This announcement follows the May 13, 2021, USDA debt relief webinar that was co-hosted by the Southern University Ag Center and the USDA for small and minority farmers.
Photos from the event are available here.
###