SU Ag Center set to host 79th Annual Livestock Show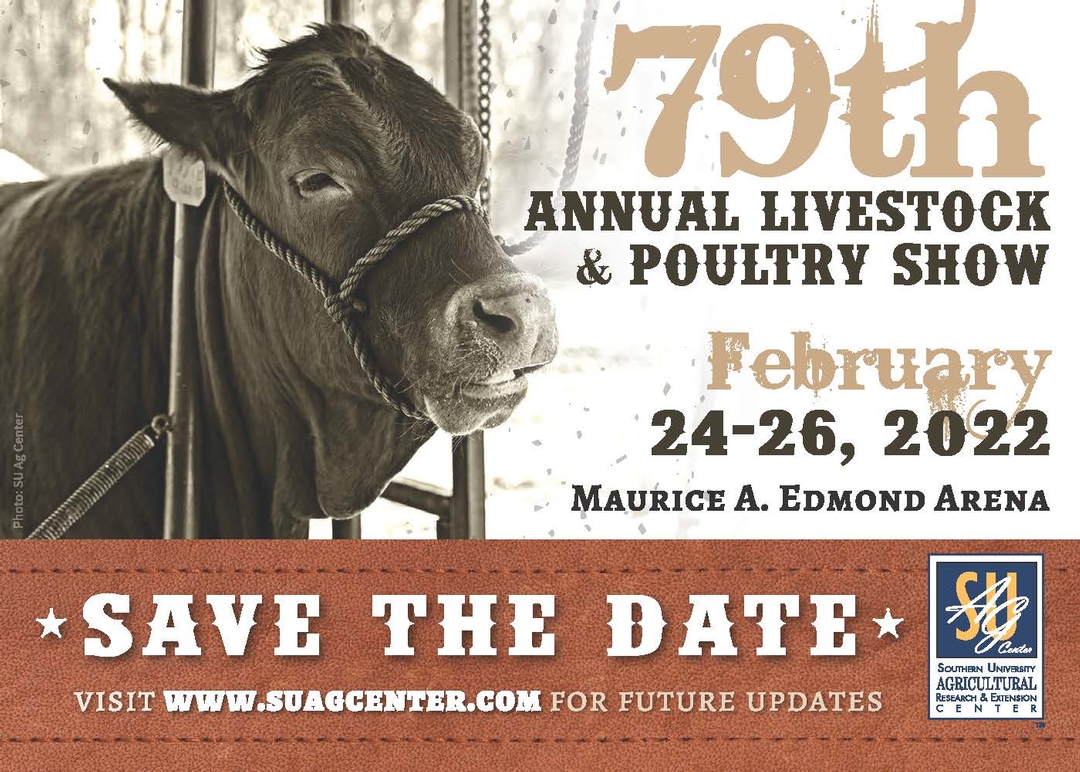 Baton Rouge, La. - Young farmers from throughout the state will converge on the Maurice A. Edmond Livestock Arena with hopes of having their prized winning animals named champion during the Southern University Ag Center's 79th Annual Livestock and Poultry Show.
The event, which will be held from February 24 – 26, 2022, provides an opportunity for youth to showcase their hard work in raising and caring for various breeds of cattle, hogs, sheep, lamb, and goats. Winners will receive premiums, ribbons, rosettes, and trophy belt buckles.
The Livestock Show Office is inviting local schools to come to the show on February 25 to participate in guided tours. The tour will include a mini petting zoo, hands-on plant, tobacco-free living, and nutrition exhibits.
Pre-orders of non-processed choice meats from various livestock are currently being accepted by the Livestock Show Office. All proceeds from meat sales go directly to participating youth as a reward for their hard work and financial investment. The following meat choices and quantities are available:
One whole beef $2,000
One half beef $1,000
One-fourth beef $500
One whole pork $225
One whole lamb $200
One whole goat is $175
There is a processing fee that is not included in the original cost of the meat. All purchases must be paid by money order or check and made payable to the Southern University Ag Center Livestock Show, prior to being picked up from the slaughter house.
Those who don't pre-order their meat are invited to make a purchase during the show's 'Junior Auction Sale' on Saturday, February 26 beginning at 9 a.m. at the Maurice A. Edmond Livestock Arena.
The office will deliver the meat to either Cutrer's Slaughter House in Kentwood (985) 229-2478 or Rouchers in Plaquemine (225) 687-4258.
Donations to the Greater Baton Rouge Food Bank are also welcome.
Since 1943, Southern University has continued the tradition of providing an opportunity for youth throughout the state to gain valuable knowledge and skills at the Annual State Livestock and Poultry Show. The Livestock Show provides a venue for youth to showcase their animals, develop entrepreneurship skills, build character and receive leadership training.
For more information on the SU Ag Center's Livestock Show, how to purchase meat or register a school for a guided tour, visit https://www.suagcenter.com/page/2022-livestock-show, call 225.771.6208 or email decobea_butler@suagcenter.com.