17th Annual Procurement Conference Networking Soiree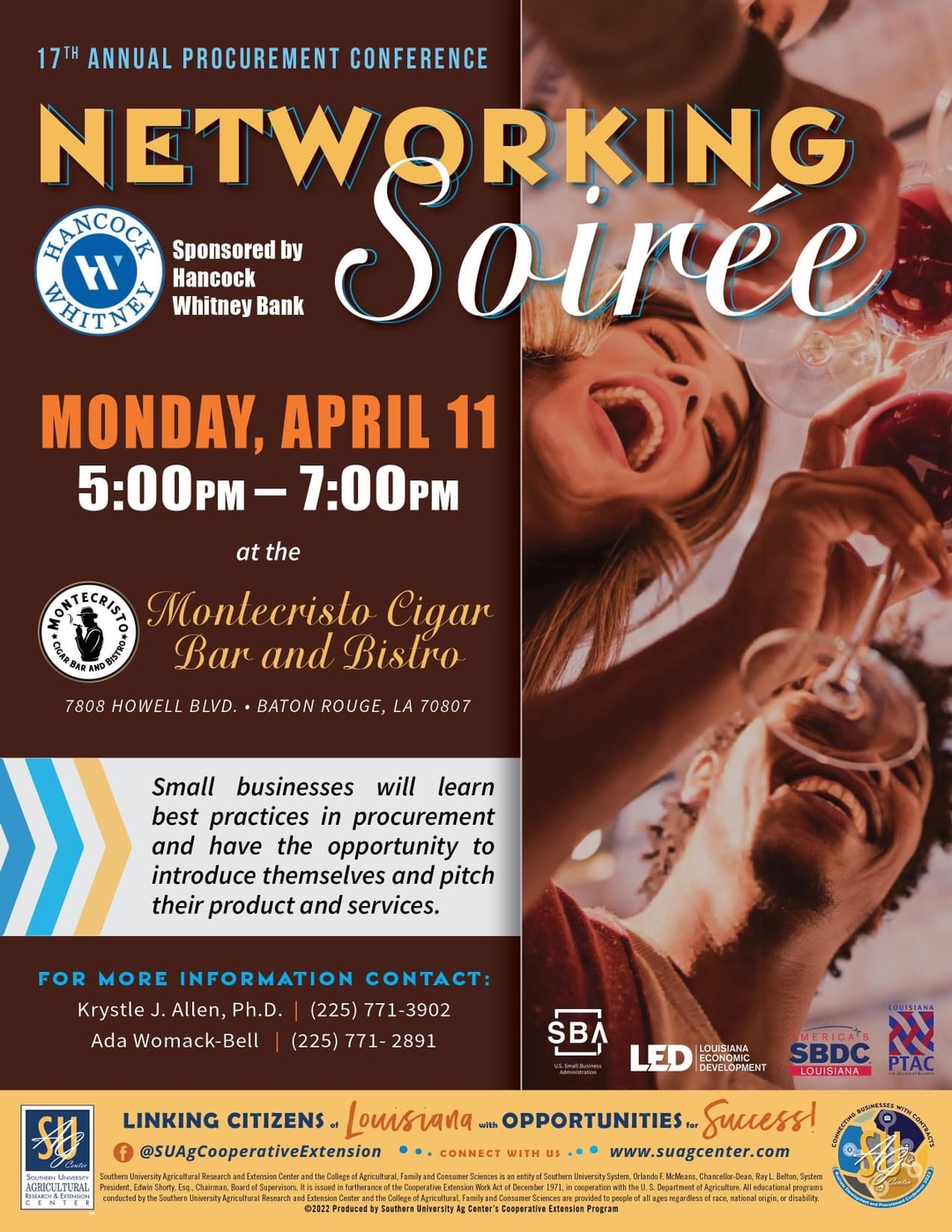 Baton Rouge, La. – The SU Ag Center will hold its 17th Annual Virtual "Connecting Businesses with Contracts" Procurement Conference. The event will kick off with an in-person networking soirée from 5 p.m. – 7 p.m. on April 11 at the Montecristo Cigar Bar and Bistro, 7808 Howell Blvd., Baton Rouge, La. 70807, followed by the two-day virtual conference on April 12-13, 2022 from 9 a.m. – 12 p.m.
The Procurement Conference has become the premier event for small businesses throughout the state of Louisiana. Attendees will receive information on the requirements needed to contract with federal, state and local government agencies, contractor fraud, capital landscaping, developing effective pricing for bids and proposals, methods of financing, and be able to network with other small business owners and contracting agents.
Sessions covered during the conference will include:
Category Management-Increasing Small Business Participation
CVE and Veteran-Owned Small Business Certification
Mental Health Wellness, Taking Care of Yourself While Taking Care of Business
Federal Contract Readiness Program
Responding to Proposals and Addressing Contract Disputes
Building Capacity Through Joint Ventures and Mentor Protégé Agreements
LED Programs and SSBCI Presentation
DBE Certifications and Technical Assistance Available
There will also be a procurement panel and exhibitors' rooms.
The conference is free and open to all small business owners and contractors, but registration is required. Visit https://bit.ly/36qBYdg to register.
This event is co-sponsored by the United States Small Business Administration, the Louisiana Small Business Development Center, LED, and Louisiana PTAC.
For additional information, email krystle_washington@suagcenter.com.