CAFCS Student Floyd Harris Receives Unsung Hero Award at the MLK Unity Celebration 2023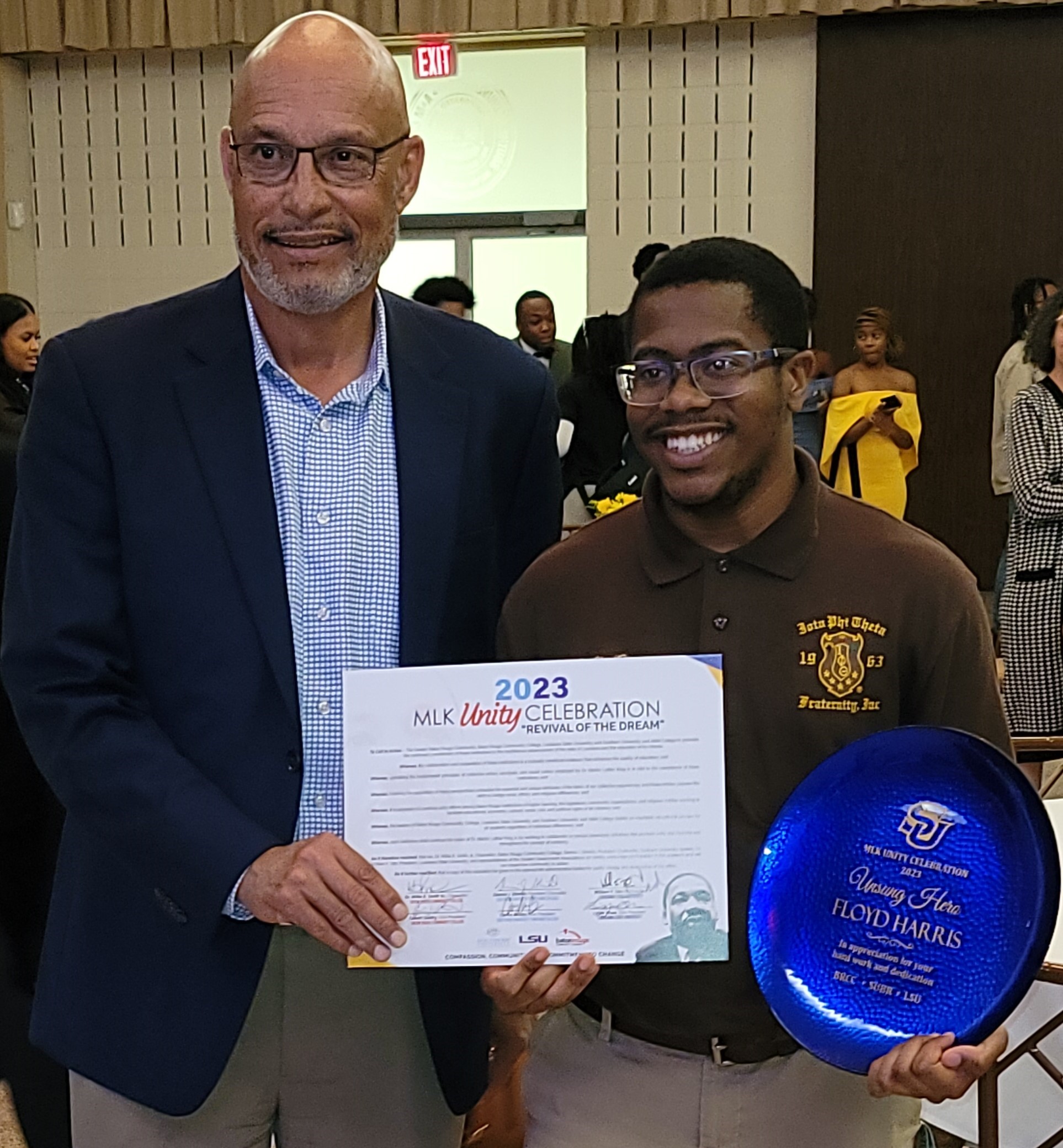 Baton Rouge, La. - Floyd Harris, College of Agricultural, Family and Consumer Sciences student, received the Unsung Hero Award at the MLK Unity Celebration held on Southern University Campus and hosted by Louisiana State University. Ms. Keandrys Dalton, Research Associate for the SU Ag Center, recommended Harris for this award.
Harris is a member of the Animal Science Pre-Vet Club, the West Coast Connection, the Food & Nutrition Association, Minorities in Agriculture and Natural Resources and Related Sciences, and the Mental Milestone Association. Harris also serves as a charter member and Head captain of the Southern University's first Stomp and Shake Team, "Code Blue." He is also a proud member of Iota Phi Theta in which he serves as Chapter president.
Harris has completed over 300 service hours to the university and the community of Baton Rouge, LA. He academically excels and is recognized nationally as an USDA 1890 Scholar, Jag STARS and Jags in Ag scholarship recipient. "He is a remarkable young man who brings honor to not only the College of Agricultural, Family and Consumer Sciences, but everyone in his vicinity. This is evident by his commitment and service to Southern University and A&M College since his freshman year," stated Keandrys Dalton.
Upon graduation, he has already solidified employment with the USDA Natural Resources Conservation Services. He also plans to open a choreography studio and continue his work with his non-profit organization, the Fresno Freedom School, located in his hometown of Fresno, California.
The MLK Unity Celebration is a time-honored tradition joining together Louisiana State University, Southern University, and Baton Rouge Community College for a celebration and commitment to the legacy of Dr. Martin Luther King Jr. One student from each university is selected for the Unsung Hero Award.