SU Ag Center set to host its 3rd Campus Market on March 29, 2023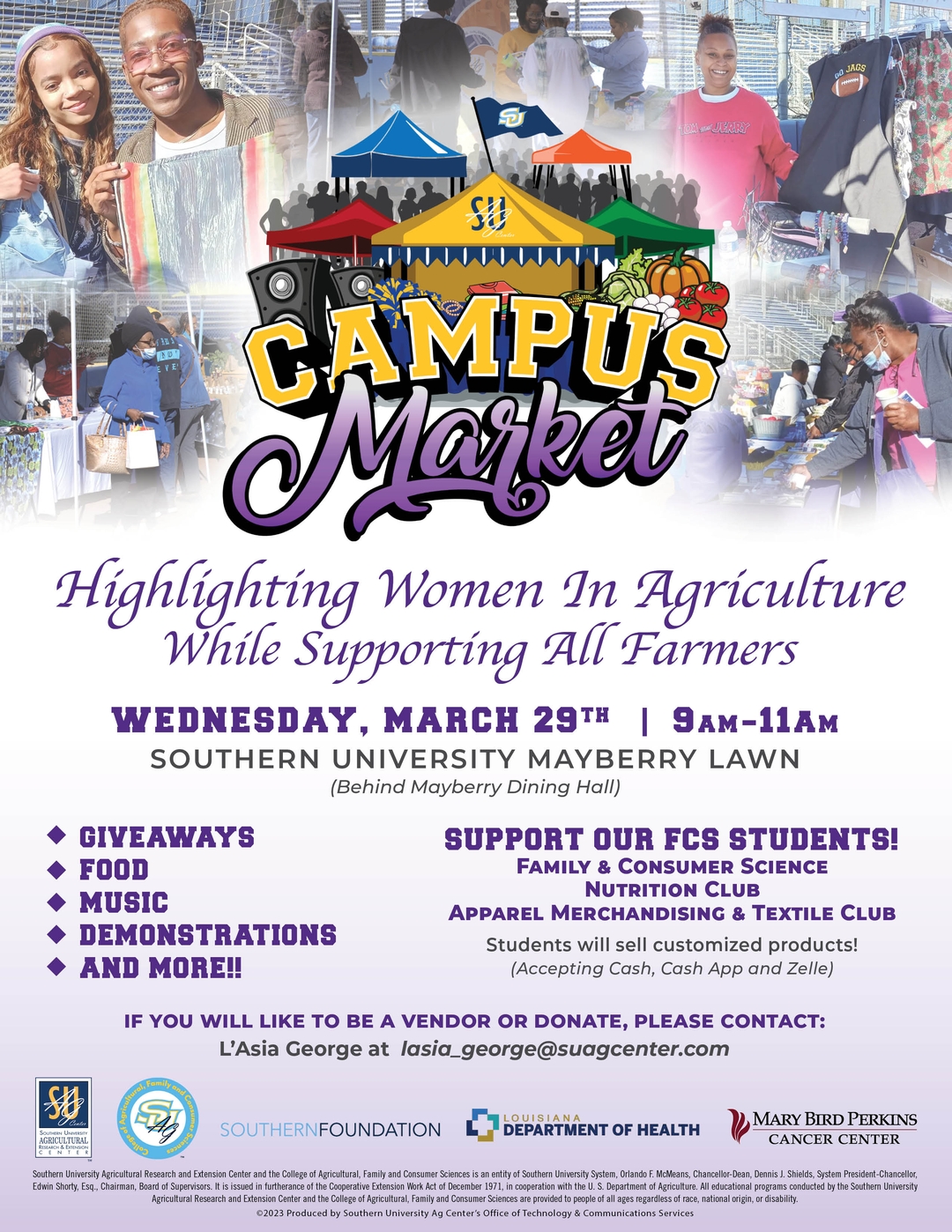 Baton Rouge, La. – The Southern University Ag Center will host its 3rd Campus Market on Wednesday, March 29, 2023 from 9 a.m. – 11 a.m. at the Mayberry Dining Hall Lawn, on the campus of Southern University.
The event will be set up as a traditional campus market and will highlight women in Agriculture, while also encouraging support for all farmers.
"For the month of March, the Campus Market is celebrating National Nutrition Month and National Women in History Month by supporting women entrepreneurs and providing food items that are not available in the surrounding areas," said L'Asia George, SU Ag Center Extension Associate and market organizer.
The market will be open to Southern University students, faculty, staff, and the community. There will be a free Community Supported Agriculture (CSA) Bag giveaway consisting of fresh fruits and vegetables on a first come, first served basis. Participants will also be able to participate in hands-on demonstrations, and purchase food items, customized products, and clothing from students in Southern University's Nutrition, Apparel Merchandising and Textiles, and the Sisters in Christ Clubs.
Local women farmers and entrepreneurs will also sell jams, jellies, cakes, skincare products, candles, snowballs, and more during the event.
Vendor booths are still available for women farmers and entrepreneurs.
The Campus Market is sponsored by the Mary Bird Perkins Cancer Center, the Southern University System Foundation, and the Louisiana Department of Health.
For additional information on the Campus Market, to register as a vendor, or to make a donation, contact L'Asia George at lasia_george@suagcenter.com.