2020 Livestock Show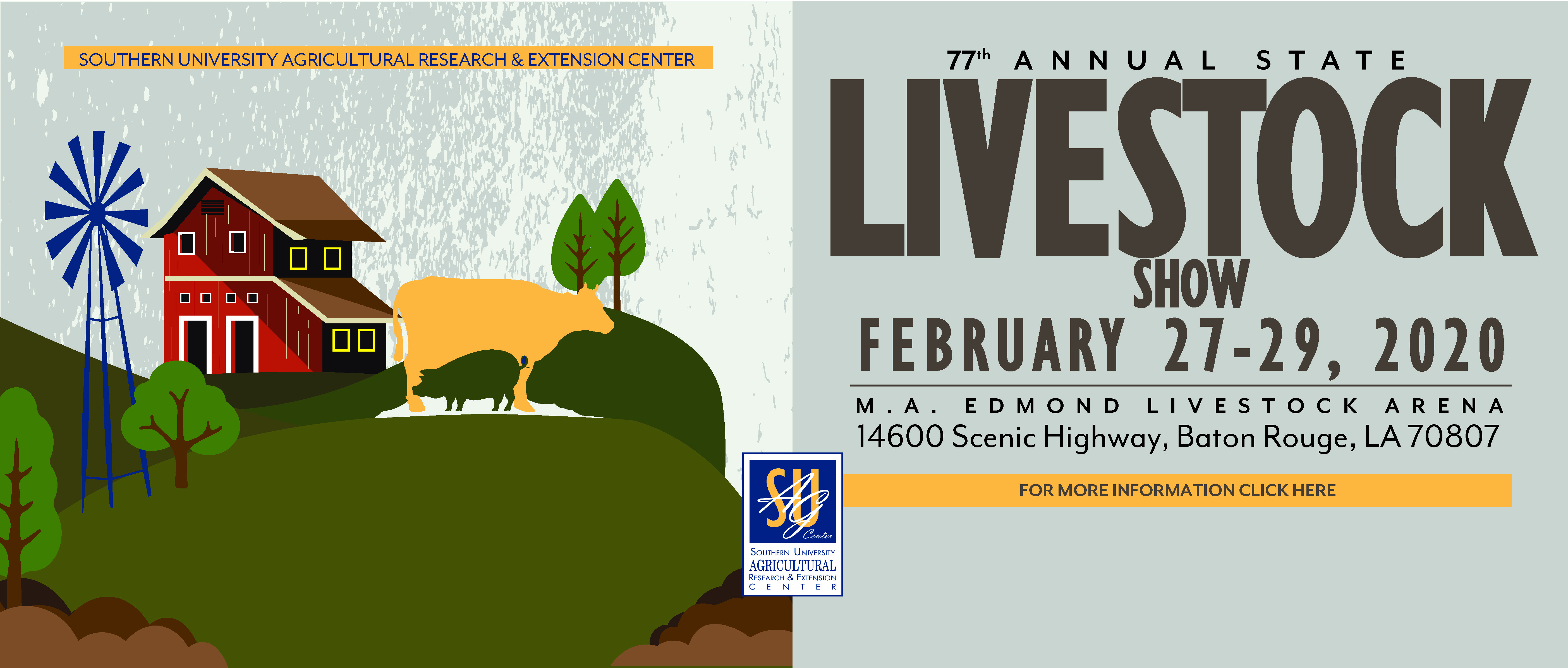 February 27 - 29, 2020
Southern University 77th Annual State Livestock & Poultry Show is scheduled for February 27 - 29, 2020 at the Maurice A. Edmond Livestock Arena, Southern University Agricultural Research and Extension Center, Baton Rouge, LA 70813.
The Livestock Show was established by J.W. Fisher, director of the College of Agriculture; Tom J. Jordan, state cooperative extension agents, along with a group of statewide vocational agricultural teachers, agricultural extension workers, and community leaders. The show began as a poultry show. A dairy calf project was added in the second year. That same year, the name was changed to the State Poultry and Dairy Show. The exhibitors were youth from limited-resource families.
Since 1943, Southern University has upheld the tradition of providing an opportunity for youth throughout the State of Louisiana to gain valuable knowledge and skills at the Annual State Livestock and Poultry Show. The objective of the youth livestock program is to develop responsibility, dedication, decision-making, leadership, trustworthiness, sportsmanship and citizenship through the possession and personal care of a live animal project. The youth (4-H or FFA members) will have many educational opportunities and activities to learn about animal husbandry and develop life skills. We are striving for maximum contact with the animal and participation in educational activities.
Over the years, the program has made a positive impact on the state and its citizens recruited students to Southern University, and developed professional agriculture and home economics workers, community leaders, entrepreneurs, and politicians. The show has contributed enormously to the total agricultural industry and economy of the state of Louisiana.
The Southern University Ag Center Livestock Show remains the premier event for displaying youth showmanship and quality animals. The Livestock Show and related programs teach leadership skills, character development, and entrepreneurship skills to the youth who prepare year-round for competitions.
More than 500 budding farmers as young as seven years old gathered at the Maurice Edmond Livestock Arena for last year's show with animals nearly twice their weight. Thirty-four were named state champions of dairy animals, goat, beef-bearing animals, lamb, hog, and steers competitions. More than 200 animals were auctioned during the live market. By the end of the show, 800 people visited the arena in support of area youth.
Show activities
The show features animals that have been showcased or have won in parish competitions. During the two-day event, judges will name the state champions in various breeds of beef and dairy cattle, hogs, sheep, lamb, and goats. Tour guides will discuss different animals, their food sources, farming and how agriculture affects everyone's lives. The show will also have balloon figures, livestock and poultry quiz bowl, face painting, food, craft booths, and magic show until 1:00 pm Friday for local school groups.
Winners will receive premiums, rosettes, ribbons, and silver platters. An awards presentation for the youth of champion market animals in the show will be held Saturday, February 29th, at 8:00 am and will be immediately followed by the Junior Auction Sale at 10:30 am. Meat buyers, who have not pre-purchased their meat, are invited to the auction to bid for show livestock meat.
Become a contributor or purchase meat
Proceeds from meat sales and monetary contributions are set aside to assure that these young herdsmen and ranchers are rewarded for their financial investment, hard work and dedication. You can make an investment by pre-ordering your choice of meat or you may increase or donation to the Greater Baton Rouge Food Bank. When you make a financial contribution in any dollar amount to the Southern University Ag Center's Livestock and Poultry Show, we will purchase prime tender beef or choice, delicious pork, lamb and goat meat that will be processed and donated to the food bank. The funds from all meat purchases go directly to the participating youth.
For more information contact: Harold Mellieon, Ph.D.
Director of Livestock Programs
Southern University Ag Center
(225) 771 5882
E-mail: harold_mellieon@suagcenter.com
Please View Related Downloadable Documents Below
---
Eight Essential Horse Manners - Fact Sheet on Horse Manners.