Center of Excellence Health Seminar Series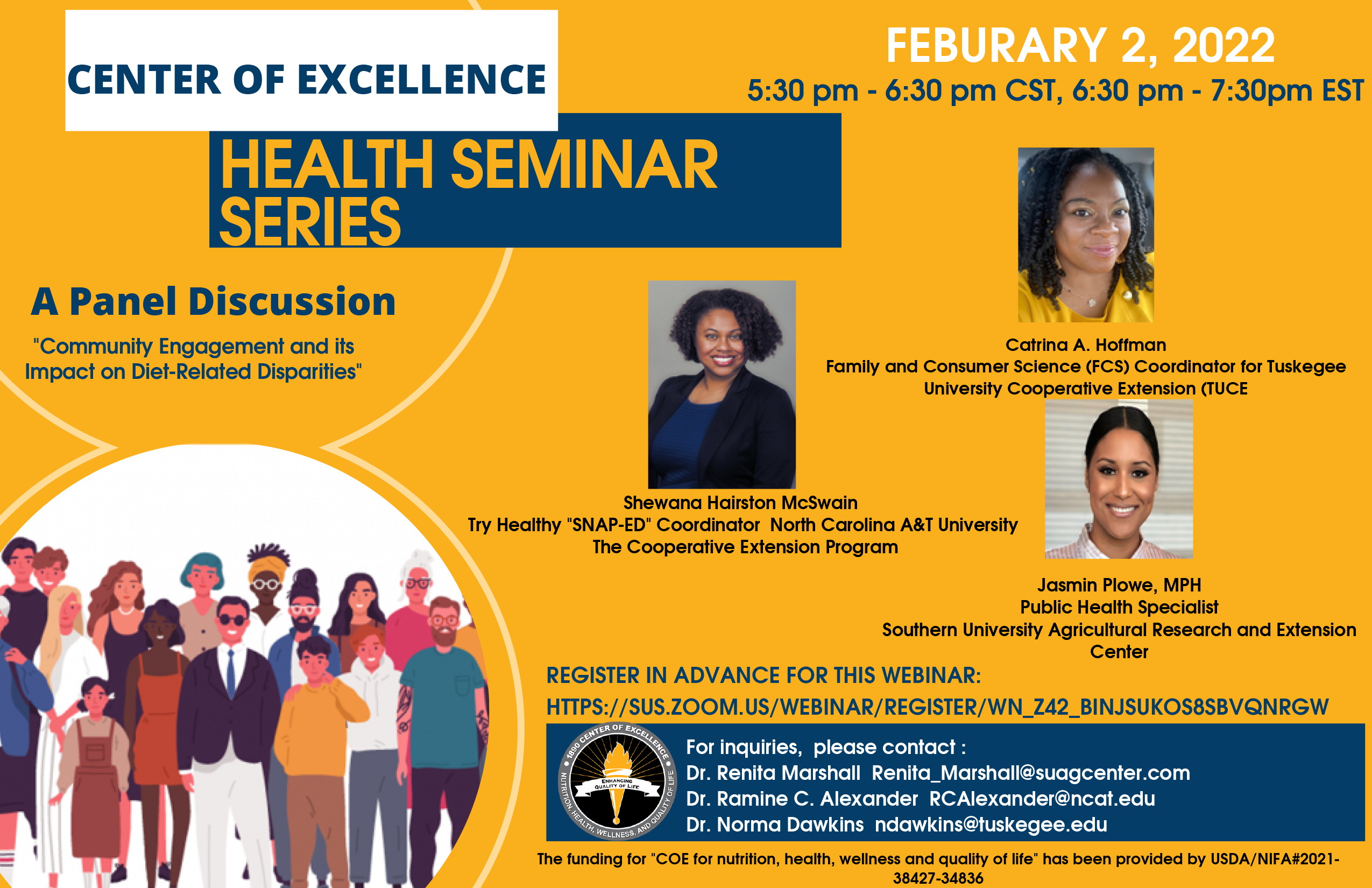 Baton Rouge, LA - The 1890 Center for Excellence for Nutrition, Health, Wellness and Quality of Life (COENHWQL), which is housed at the Southern University Ag Center, will host a virtual seminar on Community Engagement and its Impact on Diet-Related Disparities at 5:30 p.m. on Feb. 2, 2022.
The seminar, which is a part of the Center symposium series, will focus on current Cooperative Extension efforts, intervention, and programs taking place at each of the Center's 1890 partner institutions (Southern University, North Carolina A&T, and Tuskegee) to address diet-related disparities.
To register for this free seminar visit, https://bit.ly/3uiWQNz.
Featured panelists for the seminar will include Catrina A. Hoffman, Family and Consumer Science (FCS) Coordinator at Tuskegee University Cooperative Extension (TUCE) and adjunct professor for the Department of Food & Nutritional Science; Shewana McSwain, Try Healthy "SNAP-ED" Coordinator at North Carolina A&T University Cooperative Extension Program; and Jasmin Plowe, Public Health Specialist at the Southern University Ag Center.
Hoffman has served as a Youth Coordinator for the "Youth Voice, Youth Choice" 4-H grant where she successfully recruited youth extension paraprofessionals throughout the Black Belt Counties in Alabama. She has written numerous articles that have appeared in her local newspaper and Extension magazines; implemented and organized healthy living workshops in rural communities, organized the Senior Olympics for Lowndes County, AL, volunteered in after-school programs, summer camps, and provided students with the opportunity to engage in hands-on STEM research. She is dedicated to educating children and adults alike on the importance of "healthy living." Hoffman earned a Bachelor's and Master's degree in Food and Nutritional Sciences both from Tuskegee University.
McSwain serves as the Expanded Food and Nutrition (EFNEP) Outreach coordinator and the Interim SNAP-Ed Coordinator in the Cooperative Extension Program at North Carolina Agricultural and Technical State University. She provides leadership in programming for limited-income audiences, which includes 4-H youth, families with children, and pregnant teens. Before joining North Carolina A&T, McSwain served as a Program Assistant, Family and Consumer Sciences Agent, and Unit Coordinator with Virginia Cooperative Extension. She also has formal training in food handling, group facilitation, and leadership development.
Plowe's focus is chronic disease prevention, tobacco control and prevention, and immunization education at the Southern University Ag Center. She earned a Bachelor of Science degree in Human Science and Education with a concentration in pre-medicine from Louisiana State University and a Master of Public Health degree with a concentration in Epidemiology from the LSU Health Sciences Center in New Orleans.
The goal of the symposium series is to provide a forum for bidirectional education and dissemination between the community and researchers through which students, faculty, and community members can learn. The series builds a collaborative network by engaging faculty, staff, students, and the community in discussions, forums, and presentations that inform and educate them on the role of diet-related disparities among low-income and historically marginalized populations.
For additional information about the Center of Excellence for Nutrition, Health, Wellness, and Quality of Life, contact Dr. Fatemeh Malekian, Project Director for COENHWQL and Director of the Institute for Food, Nutrition and Wellness at the SU Ag Center at fatemeh_malekian@suagcenter.com, or Dr. Renita Marshall, Co-Project Director for COENHWQL and SU Ag Center Vice-Chancellor for Academic and Student Services/ Associate Dean of the College of Agricultural, Family and Consumer Sciences at renita_marshall@suagcenter.com.