The SU Ag Center's 1890 Center of Excellence set to host 2023 Symposium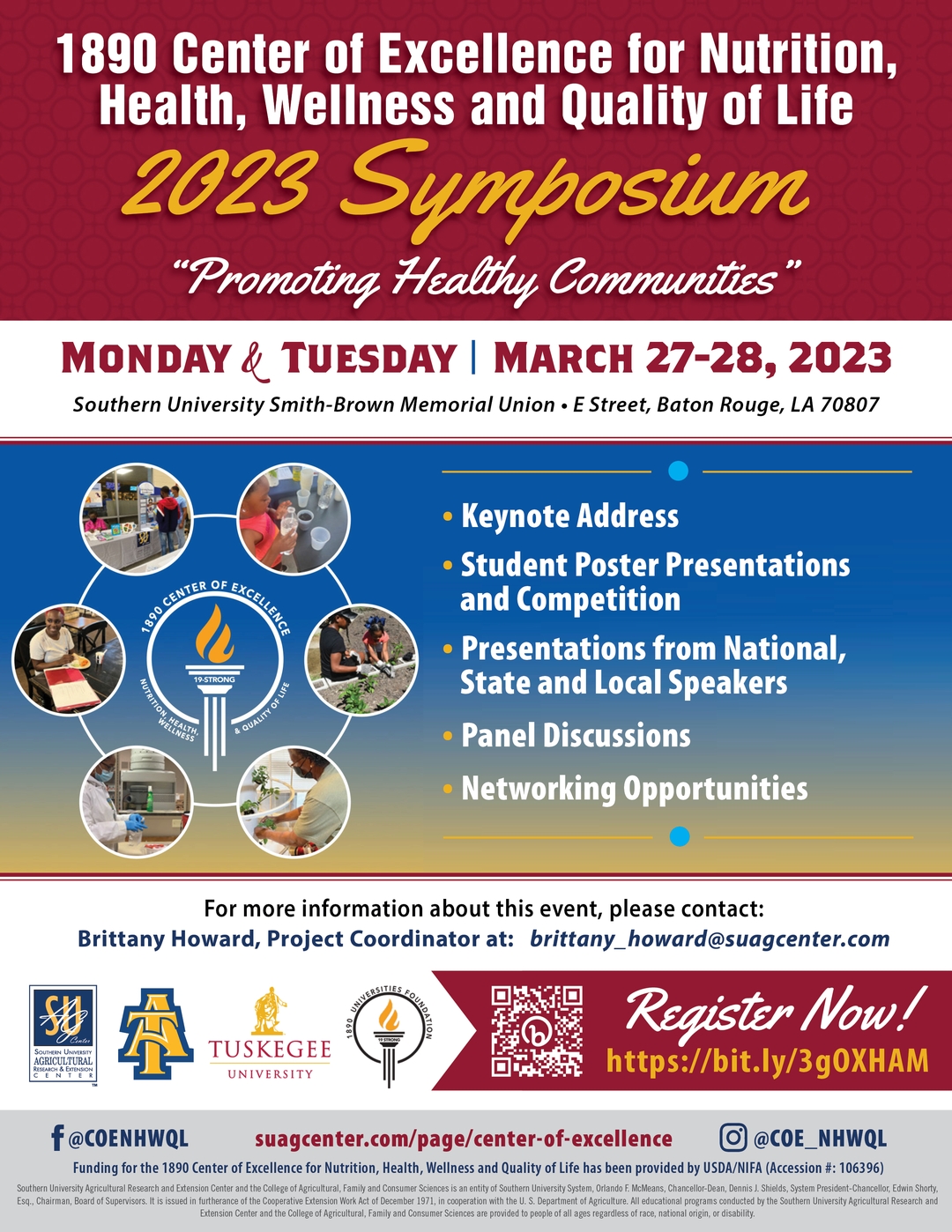 Baton Rouge, LA - The 1890 Center of Excellence for Nutrition, Health, Wellness, and Quality of Life (COENHWQL), will host its 2023 Symposium on March 27-28, 2023 at the Southern University Smith-Brown Memorial Union. Monday, March 27 will be held from 9 am - 4:30 pm and Tuesday, March 28 will be held from 9 am - 2:00 pm. Registration will start at 8 am.
The theme of the Symposium is "Promoting Healthy Communities" which sets the direction of the COE goals and objectives. It will serve as a platform to deliver innovative research results and latest trends and development in the fields of Nutrition, Health, Wellness and Quality of life for our people.
"This 1st Health disparities of 2023 offers a special opportunity to bring together professors, researchers, staff, students, extension professionals and paraprofessionals, community members and scholars from around the Nation," said Dr. Fatemeh Malekian, Project Director for NHWQL and Director of the Institute for Food, Nutrition and Wellness at the SU Ag Center.
This symposium features a rich program, including a speech by the acting Director of USDA/NIFA Dr. Toombs, a keynote speech delivered by Ms. Alma Stewart the CEO of Louisiana Health Equity and other speakers from USDA/NIFA, local and state agencies, private organizations, community members and faculty from other 1890 universities such as Tuskegee, NC A&T State University, and 1890 Universities Foundation.
"We are in a unique position to work as a team to establish a COE nutrition center, which supports the tripartite land-grant's mission of research, teaching and Extension to contribute solutions to improve the health and well-being of underserved and minority populations," added Dr. Malekian.
To register or for additional information visit, https://bit.ly/3K2gBQY.
For additional information about the Center of Excellence for Nutrition, Health, Wellness, and Quality of Life, contact Dr. Fatemeh Malekian at fatemeh_malekian@suagcenter.com or Dr. Renita Marshall, Co-Project Director for NHWQL and SU Ag Center Vice-Chancellor for Academic and Student Services/ Associate Dean of the College of Agricultural, Family and Consumer Sciences at renita_marshall@suagcenter.com.