SU Ag Center to host its 2nd virtual speaker series commemorating its 20th Anniversary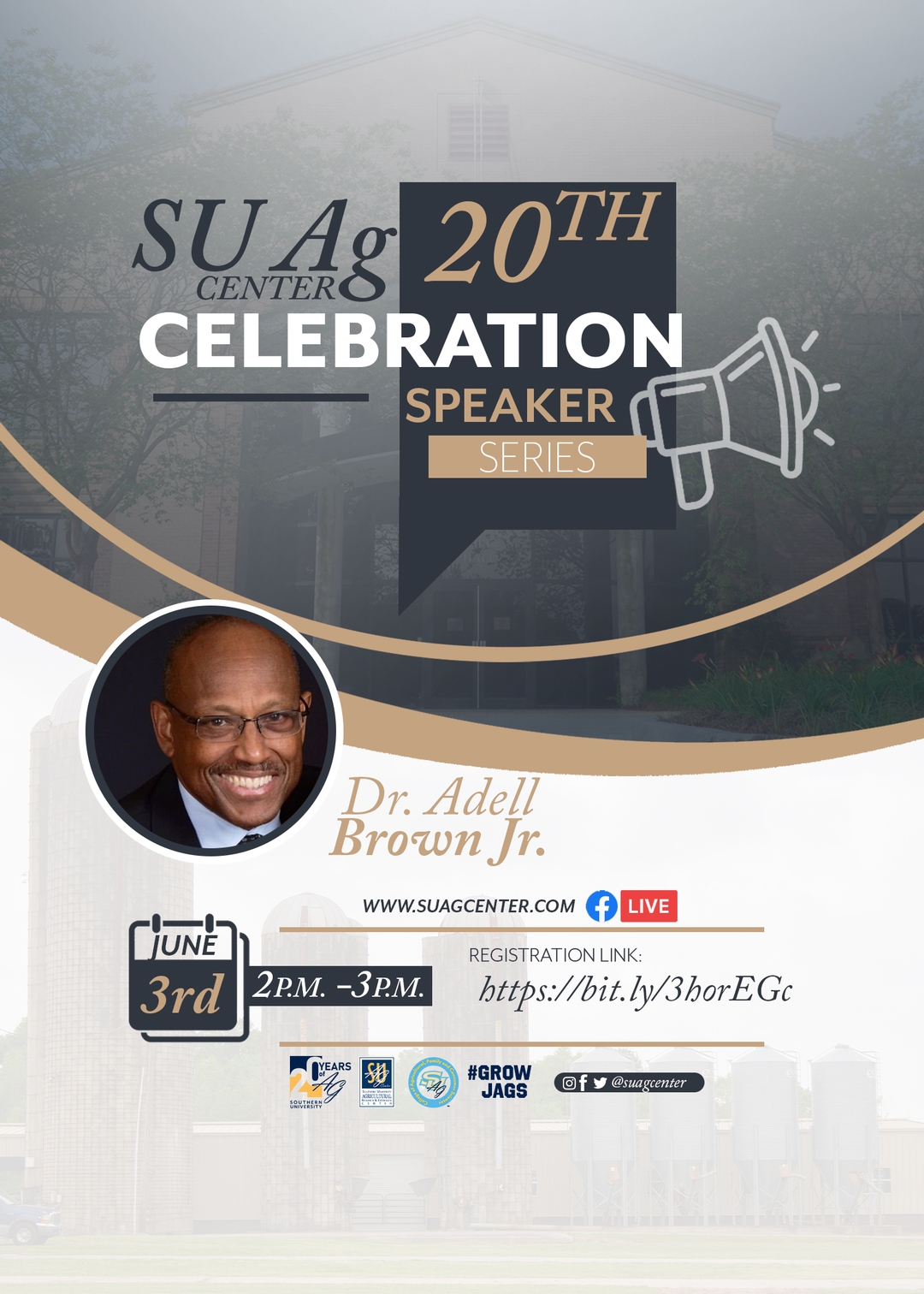 Dr. Adell Brown will be the featured speaker
Baton Rouge, La. – The Southern University Agricultural Research and Extension Center will host the second session in its five-part 20th Anniversary Speakers Series on June 3, 2021.
Dr. Adell Brown, former Vice Chancellor for Research and Interim Chancellor of the Southern University Agricultural Research and Extension Center will serve as the speaker.
Brown retired from the Southern University Ag Center in 2016 and has served as the Vice President for Planning, Research, and Development at Mississippi Valley State University and Interim Dean of Finance, Administration and Institutional Effectiveness at Housatonic and Gateway Community Colleges in Connecticut. He currently serves as an adjunct professor of Economics in the College of Business at the Southern University and A&M College.
He has published extensively in professional journals, books, and other media outlets in the areas of agricultural and rural development with an emphasis on enhancing opportunities for farm families with small-land holdings and addressing assiduous poverty in rural communities.
The Gilbert, Louisiana native earned a bachelor's degree in Agricultural Business from Northeast Louisiana State University, an MBA from the University of Southwest Louisiana, and a doctorate of philosophy degree in Agricultural Economics from Louisiana State University.
To register for this virtual session, visit https://bit.ly/3horEGc.
This event will be held on Zoom and live-streamed on the SU Ag Center's Facebook page.
Additional speakers in the series will include:
All sessions will begin at 2 p.m.
The Southern University Ag Center will celebrate its 20th Anniversary on July 1, 2021. For a list of events leading up to the celebration, visit our website at www.suagcenter.com.
###