Center for Rural and Small Business Development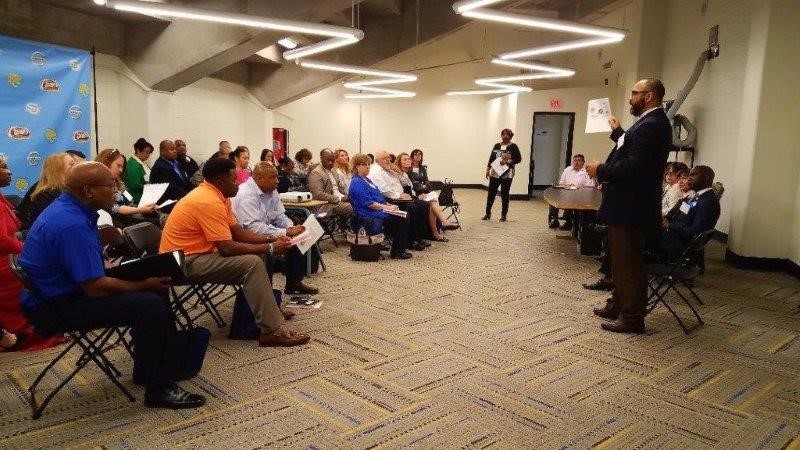 The Center for Rural and Small Business Development, established in 1994 has spent twenty-four (24) years providing services to business owners, communities, organizations, local governments, and the general public in the following rural parishes: East Feliciana, St. Helena, Tangipahoa, St. Landry, Evangeline and Iberville parishes. The predominant goal of the Center is to provide technical assistance for business creation in economically challenged rural communities, to conduct educational programs that develop and improve upon the professional skills of rural entrepreneurs and to provide outreach and promote USDA Rural Development programs in small rural communities with great economic need. Our efforts are structured such that they will benefit individuals, households, and communities for future generations. Additionally, our services are essential to empower these designated rural under-served communities. These communities often suffer from far too many of Louisiana's social ills, that add up in both lives lost and dollars spent. They are plagued with poverty, incarceration, illiteracy, lack of healthcare, ranked 37th in the nation in meeting long-term care needs of seniors and adults with disabilities, are more likely to die from firearms than residents of any other state, addiction, social services, judicial corrections, public safety, and economic development issues. All of these things impact the quality of life in these communities. Unhealthy communities will always struggle. Leaders must attempt to provide a comprehensive collaborative plan to alleviate or at least substantially reduce these issues.
The 1890 Land Grant Institutions Rural Entrepreneurial Outreach and Development Initiative coupled with two Rural Business Enterprise Grants, Advocacy grants and community development funding has proven to be viable vehicles for the Center to deliver greatly needed assistance to a multitude of existing and expiring businesses. We have been able to formulate strategic alliances and partnerships which assist in leveraging assets, stimulating economic and business development, as well as, create essential jobs. Our success has been largely in the creation of new start-ups. We have discovered a huge return on investment in harvesting and cultivating this bounty. It is great to set loose a start-up in a community and watch it solve problems and mobilize opportunities. Additionally, we have witnessed the enhancement of competition among existing businesses and come to realize the power of knowledge. Education equals jobs and opportunity. After teaching the various essential skills needed for a successful business operation, we have seen many establishments initiate these skills into their daily business operations, which served to increase their revenue and general well- being of the business. Of course, successful businesses lead to an enhanced community able to stimulate economic growth and development. They attract and keep young creative people who will channel their energy and attitude into solving our problems and creating community-lifting opportunities.
We will continue to do what has worked for our constituents over the last (24) twenty-four years, providing management and technical assistance, one-on-one counseling, workshops and seminars and other educational venues that serve to promote entrepreneurship, community, and long-term economic development in these under-served rural communities. Our hope is to assist them in establishing programs that will allow them to establish innovative, comprehensive, citizen-led, long term community strategies that will lead to long term business and community development. With these attractions, they will be able to entice business development and encourage their youth to stay in their rural home towns instead of migrating to other more productive and vibrant communities. Moreover, we will further introduce networking and collaboration as prerequisites for these communities to be able to compete in the global economy through the utilization of computer technology. The utilization of mobile computing and training coupled with fortified entrepreneurial training will serve as a vehicle to leverage existing community strengths and diversifying local economies while challenging existing businesses to be more efficient and innovative. All businesses, small or large must become e-commerce savvy. In order to provide greater aid to small emerging businesses in their navigation of the business territory, during the next year, we will place more emphasis on the utilization of technology. Technology is a powerful tool and can allow the business to engage in amazing things, including streamlining the business process, finding more customers, save money, become more profitable and productive while promoting products and services in new ways. It can be the small business owner's best friend. If we are going to actively participate in the new economy, we must continue to intensely encourage the use of the computer through, training sessions and the computer laboratories we have organized in rural communities, embrace wireless internet and promote broadband access to underserved communities throughout Louisiana and points beyond.
Additionally, efforts to foster coaching and mentoring-protégé endeavors will be emphasized to a greater extent. We will utilize experienced individuals on an ongoing basis, who have been down the road before and can share their expert knowledge with developing business, in reference to a particular situation and other needs they may encounter. A great mentor will not only be an advisor but a friend, as well as, a confidante.
The Southern University Agricultural Research and Extension Center was established on July 1, 2001, as the fifth campus of the Southern University System. Southern University Ag Center combines both research and extension functions into a unified system at the campus level. Consequently, the Center assumes administrative responsibilities for the federal research and extension funds as stipulated under sections 1444 and 1445 of the National Agriculture Research, Extension and Teaching Policy Act (NARETPA) of 1977.
The mission of the Southern University Ag Center is to conduct basic and applied research, and disseminate information to the citizens of Louisiana in a manner that is useful in addressing their scientific, technological, social, economic and cultural needs. Southern University Ag Center is comprised of the Center for Small Farm Research, the Center for Rural and Small Business Development, and the Southwest Center for Rural Initiatives.
More than 20 professional research scientists conduct research in areas such as 1) value-added product development, (2) alternative small farm enterprise development, (3) use of agricultural by-products, (4) nutrition, family and consumer sciences issues, and (5) urban forestry and natural resources. Research associates, laboratories and land resources support current research activities. The research program collaborates with entities including the United States Department of Agriculture; Louisiana State University Agricultural Center; private industries; 1862, 1890 and 1994 institutions; Louisiana Farm Bureau, commodity groups and business associations.
Our committed specialists and field agents provide leadership and expertise in family and consumer sciences, health and nutrition, community and economic development, agricultural and natural resources, and youth development. Leaders and residents are taught capacity-building skills to enhance the growth and development of business and industrial sectors in order to improve the quality of life of citizens throughout the state. Additionally, families are taught financial management skills and health and nutrition facts that allow them to make wiser, healthier food choices.
Programs and services implemented by the Southern University Ag Center are grounded in the basic tenets of the Legislative Acts which created, and refined the 1890 land-grant system. The Center is positioned to anticipate change and to embrace the challenges and opportunities of the future. Resources are focused on high priority issues facing the citizens of Louisiana as the needs of this diverse society grow in complexity. The Center offers credible, relevant, and effective research and educational responses that have a positive and enduring impact on individuals, families, and communities.
MISSION

The scope of work for the Center is to provide information and management/ technical assistance to underrepresented groups in traditionally agricultural and other natural resources dependent communities by encouraging business and economic development. Specifically, the Center's staff provides assistance in the following areas:
501(C) 3 Application Assistance
8(A) Certification
Business Dissolution Guidance
Business Expansion Guidance
Business Investments
Business Start-up Guidance
Fiscal Management
Limited Legal Guidance
Loan Packaging (Bank, SBA, Etc.)
Management Training
Marketing
Merchandising
Procurement Opportunity
Personnel Management
Production Inventory
Public Relations
Sales Forecasting
Seminars/Workshops