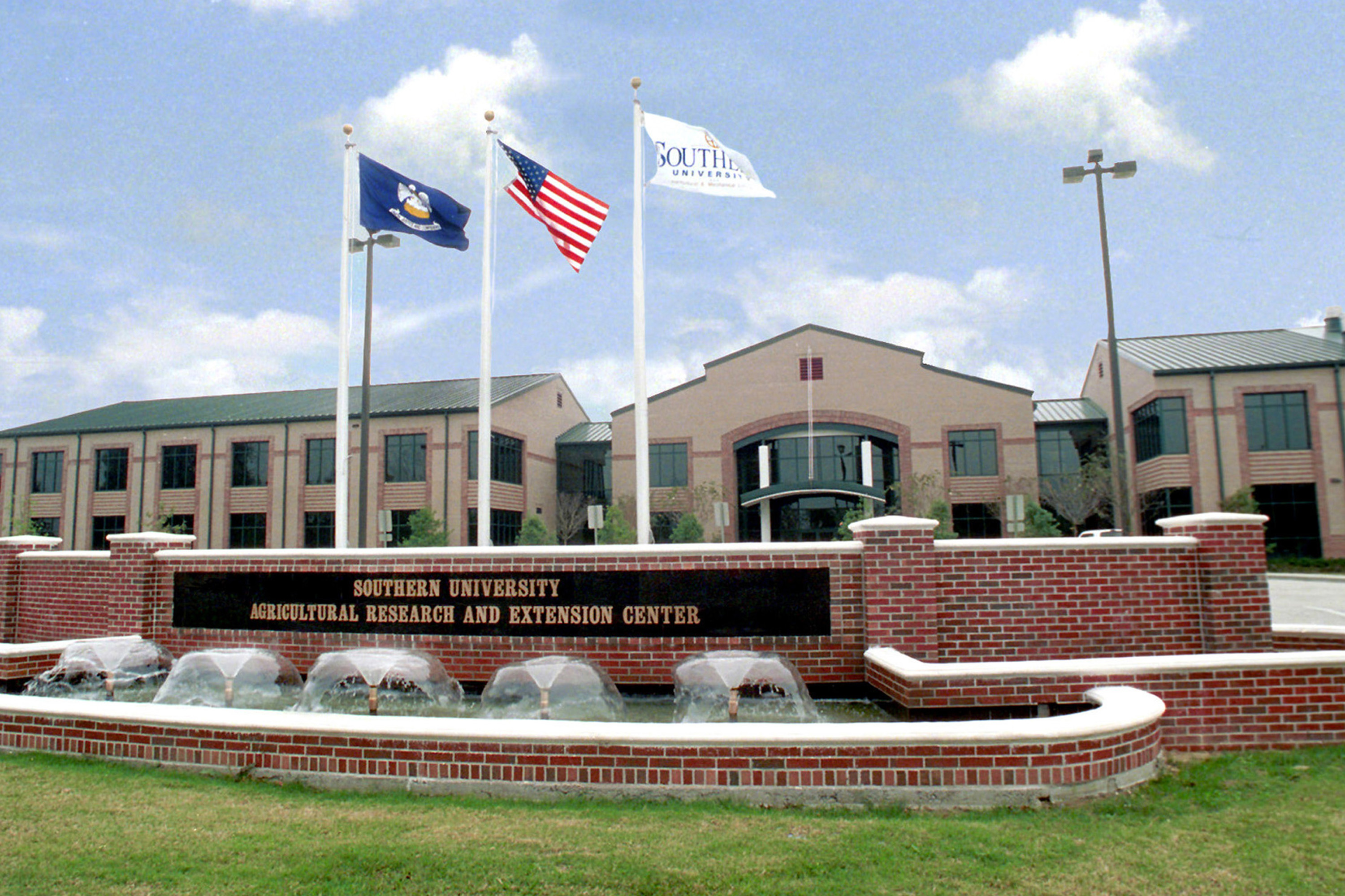 Ashford O. Williams Hall
The Ashford 0. Williams Hall is a two-story; 55,160 square-foot building consisting of more than 45 offices and 28 abides to house the research and extension faculty, staff and administrators, telecommunication unit equipment with graphic, television and distance learning components, and more than 20 research laboratories. The building also has three meeting rooms with the largest one being able to accommodate 300 people.
Maurice A.Edmond Livestock Arena
The Maurice A. Edmond Livestock Arena has more than 58,943 square feet consisting of a regulation horse show ring, and swine, sheep, and beef cattle stables. The arena has significantly increased Southern University's capability to deliver youth educational programs in Louisiana. The arena also provides opportunities for other non-livestock show youth programs.

Southern University is deeply indebted to the USDA/CSREES 1890 Facilities Program for furnishing the funds to construct the extension wing of the A. 0. Williams Hall the technology center and the Maurice A. Edmond Livestock Arena. The institution is equally grateful to the state of Louisiana for providing the funds to construct the research wing of the A. 0. Williams Hall.
The College of Agricultural, Family and Consumer Sciences: The CAFCS has been an integral part of the SU System from its inception. The college focuses on academic programs and fulfils the teaching component of the University's tripartite mission. The Southern University Board of Supervisors voted to merge the Southern University College of Agriculture with the Southern University Agricultural Research and Extension Center during the board's April 22, 2016 meeting in keeping with its land-grant function.
Research Stations
The primary Research Station comprises approximately 385 acres and is located in Baker, Louisiana. Currently, this station is used for several research and outreach activities. A mixed species project involving beef cattle and goats occupies a significant portion of the land mass. The station is also used for the production of agronomic crops and serves also as the site for the livestock arena.
Several auxiliary units involving swine, poultry, dairy cattle, goats, greenhouses, and a meat processing plant are located on the Baton Rouge campus. There are 27 analytical laboratories which are housed in Ashford O. Williams Hall and the head house complex. These laboratories are used to support research in the various research program areas. Although these facilities are adequate to support existing research activities, much growth is anticipated in the future to address expanding clientele needs.