SU Ag Center holds a successful 79th Annual State Livestock Show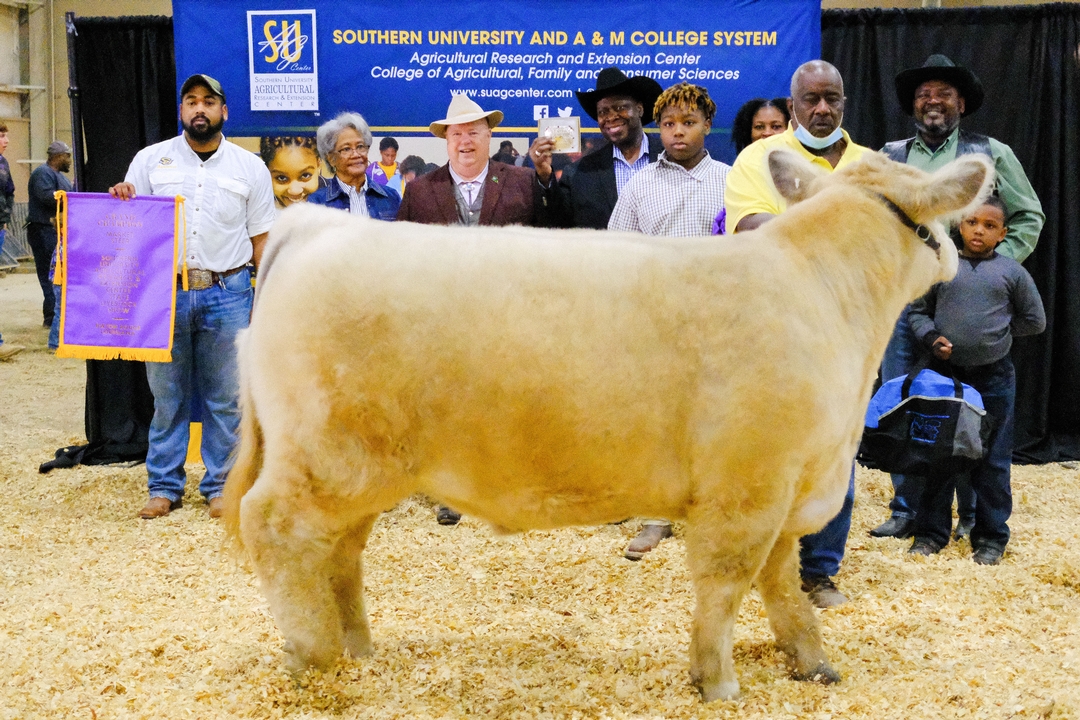 Baton Rouge, La. – For 79 years, the Southern University Ag Center has continued the tradition of providing an opportunity for youth, throughout Louisiana, to gain valuable knowledge and skills at its Annual State Livestock and Poultry Show. The show was held February 24-26, 2022, at the Maurice A. Edmond Livestock Arena.
To qualify for the state show, competitors had to have won first place at a parish livestock show.
The following is a list of winners in various livestock and poultry categories and their home parishes. Each winner received a premium, ribbon, rosette, and trophy belt buckle.
Market Broiler
Grand Champion – Zachary Manning, Avoyelles Parish
Reserve Champion – Demarcus Thomas, Avoyelles Parish
Broiler Premier
| | |
| --- | --- |
| Grand Champion- | Khloe Abraham, St. Landry Parish |
| | Laryn Bunch, East Baton Rouge Parish |
| | Ty Sam, St. Landry Parish |
| Reserve Champion- | Kelsi Atkinson, East Baton Rouge |
| | Parish |
Market Lamb
Grand Champion – Charlotte Chitwood, Acadia Parish
Reserve Champion - Charlotte Chitwood, Acadia Parish
Market Lamb (LA Bred)
Grand Champion – Charlotte Chitwood, Acadia Parish
Reserve Champion – Manning Fontenot, Acadia Parish
Lamb Showmanship
Grand Champion – Shelby Brown, Winn Parish
Reserve Champion - Manning Fontenot, Acadia Parish
Market Goat
Grand Champion – Reece Johnson, Winn Parish
Reserve Champion – Jackson Baham, Tangipahoa Parish
Market Goat (LA Bred)
Grand Champion - Jackson Baham, Tangipahoa Parish
Reserve Champion – Jackson Baham, Tangipahoa Parish
Goat Showmanship
Champion - Jackson Baham, Tangipahoa Parish
Reserve Champion – Westin Airhart, Sabine Parish
Registered Dairy
Grand Champion - Camille Sonnier, Jefferson Davis Parish
Reserve Champion - Camille Sonnier, Jefferson Davis Parish
Commercial Dairy
Grand Champion - Camille Sonnier, Jefferson Davis Parish
Reserve Champion – Wyatt Sonnier, Jefferson Davis Parish
Dairy Showmanship
Grand Champion - Camille Sonnier, Jefferson Davis Parish
Reserve Champion - Wyatt Sonnier, Jefferson Davis Parish
Market Hog
Grand Champion – Jules Johnson, St. James Parish
Reserve Champion – Anabelle Naquin, Lafourche Parish
Hog Showmanship
Grand Champion - Jules Johnson, St. James Parish
Reserve Champion – Lauren Trawick, Winn Parish
Market Steer
Grand Champion – Le'Kevion Hawkins, Madison Parish
Reserve Champion – Cor'Layzia Rogers, Tangipahoa Parish
Beef Showmanship
Grand Champion – Emma Peace, Sabine Parish
Reserve Champion – Kenzingtyn Primm, Caddo Parish
Brahman Heifer
Grand Champion – John Danos, Sabine Parish
Reserve Champion – Samuel Danos, Sabine Parish
Non-Brahman Heifer
Grand Champion – Kenzingtyn Primm, Caddo Parish
Reserve Champion - Skylar Primm, Caddo Parish

Brahman Bull
Grand Champion – John Danos, Sabine Parish
Non-Brahman Bull
Grand Champion – Kenzingtyn Primm, Caddo Parish
Commercial Heifer
Grand Champion – Macy Rule, Sabine Parish
Reserve Champion – Emma Peace, Sabine Parish