SU Ag Center set to hold a Virtual Produce Safety Alliance Grower Training Course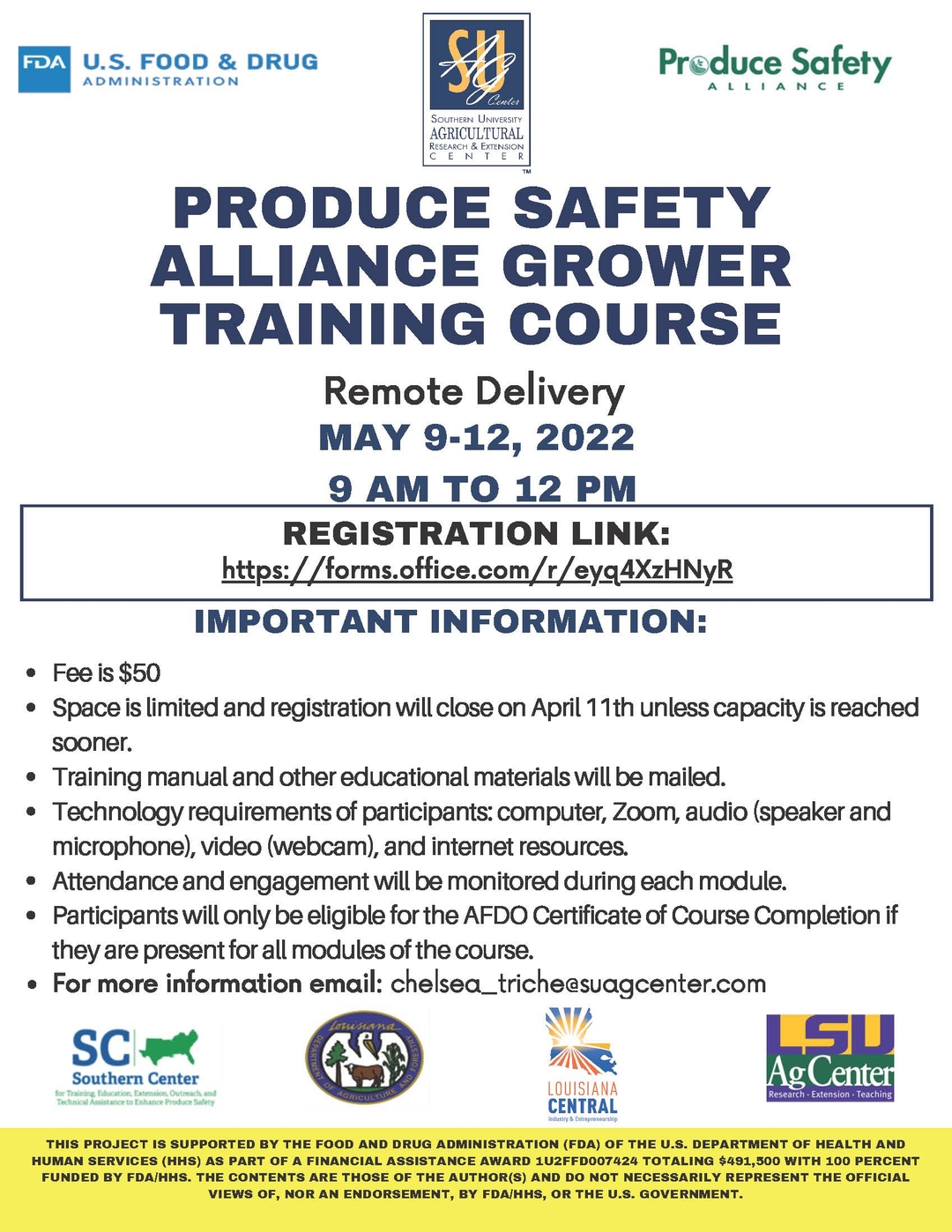 Baton Rouge, La. – SU Ag Center will host a virtual Produce Safety Alliance Grower (PSA) Training Course for fruit and vegetable growers from May 9 - 12, 2022.
This course is ideal for fruit and vegetable growers and individuals interested in learning about produce safety, the Food Safety Modernization Act (FSMA) Produce Safety Rule, Good Agricultural Practices (GAPs), and co-management of natural resources and food safety. The PSA Grower Training Course is one way to satisfy the FSMA Produce Safety Rule requirement outlined in § 112.22(c) that requires, 'At least one supervisor or responsible party for your farm must have successfully completed food safety training at least equivalent to that received under standardized curriculum recognized as adequate by the Food and Drug Administration.' Participants will receive a PSA/ Association of Food and Drug Officials (AFDO) Certificate of Course Completion at the end of the training.
Course participants must be present for the entirety of the four-day course and have equipment with audiovisual capabilities (microphone and camera) to allow for class participation.
The training fee for the course is $50 and seating is limited. To register, visit https://bit.ly/3uL0kHn. Registration will close on April 11, 2022.
The training is co-sponsored by the Louisiana Department of Agriculture & Forestry, the Southern Center for Training, Education, Extension, Outreach and Technical Assistance to Enhance Produce Safety, Louisiana Central Industry & Entrepreneurship, and the LSU AgCenter.
For additional information or questions, contact Chelsea Triche at chelsea_triche@suagcenter.com.