SU Ag Center set for 18th Annual Business Development & Procurement Conference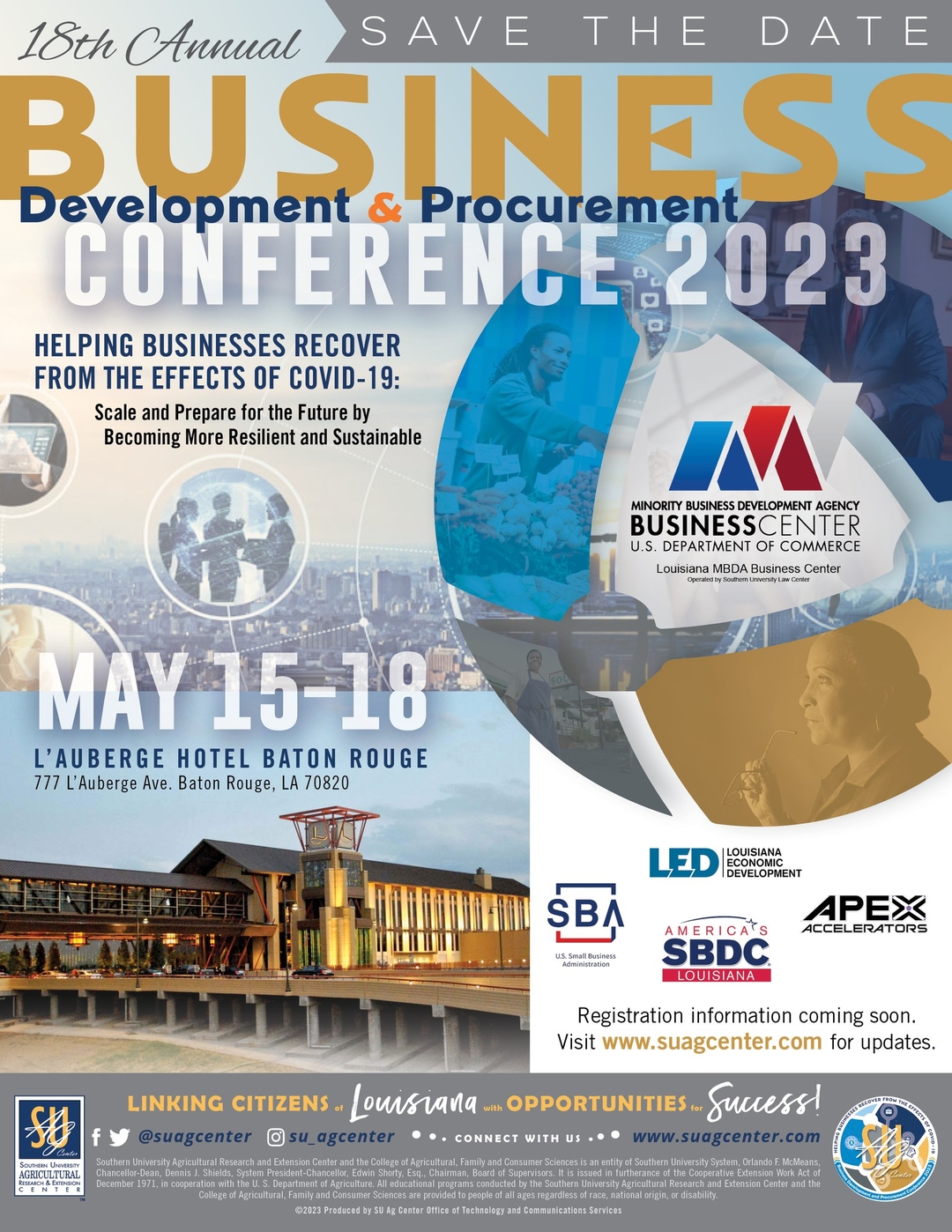 Baton Rouge, La. – Small business owners from throughout Louisiana are invited to the Southern University Agricultural Research and Extension Center's (SU Ag Center) 18th Annual Business Development and Procurement Conference: Helping Businesses Recover from the Effects of Covid-19. The conference will be held May 15 - 18, 2023 at the L'Auberge Hotel & Casino, 777 L'Auberge Ave, Baton Rouge, LA 70820.
"The Southern University Ag Center has a rich and consistent history of enriching the capacities of Louisiana's small and rural businesses, as evidenced by the longevity of this conference," said Krystle Allen, Ph.D., Assistant Specialist for Community and Economic Development at the SU Ag Center and Conference Organizer. "This year, we are excited to partner with the Southern University Law Center's Minority Business Development Agency (MBDA) to expand our conference. It was imperative to us that all businesses can attend this conference; thus the conference is FREE and open to the public. We hope businesses join us to learn, grow and develop their businesses," expressed Allen.
The conference will provide an opportunity for the small business communities to network with larger companies and government agencies aimed at growing their businesses. This is the ideal conference for minority business enterprises, woman-owned small businesses, small disadvantaged businesses, 8(a) certified firms, HUBZone certified firms, and Veteran-Owned (including Service-Disabled Veteran owned) to learn about the $1.2 trillion Bipartisan Infrastructure Bill and the opportunity to network.
Entrepreneurs can expect to learn contract matchmaking, networking, training, and information on certification programs. Learning paths are also recommended for specialized session attendance.
"This four-day conference will allow MBEs many opportunities to network with industry and grow their businesses -- from matchmaking with government and corporate entities to attending training and hands-on workshops designed to improve their business operations," said Charletta Fortson, executive director of the Louisiana MBDA Business Center. "It is our goal to do more than just provide information but that all participants - especially our minority businesses walk away with tools, connections, and opportunities to scale."
Additional co-sponsors for the conference include the U. S. Small Business Administration (SBA), the Louisiana Small Business Development Center (SBDC), Louisiana Economic Development (LED), and Apex Accelerator (formerly LA PTAC) from the University of Louisiana at Lafayette.
Registration is required. To register or for additional information visit, https://lasmallbizconference.vfairs.com/.