SU Ag Center set to host a Community Health Day in Mansura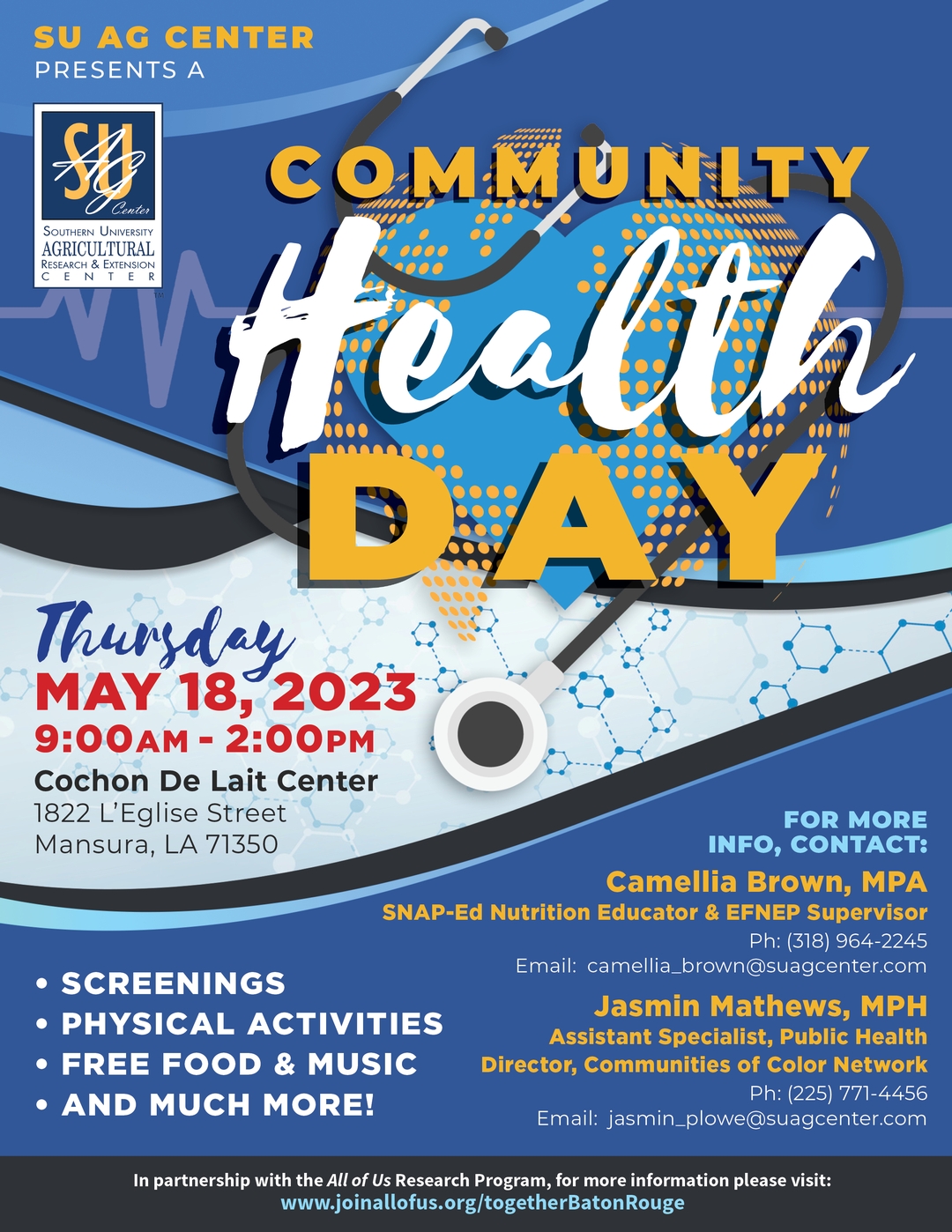 Baton Rouge, La. – The Southern University Ag Center in partnership with the All of Us Research Program, will host a Community Health Day at the Cochon De Lait Center, 1822 L'Eglise Street, Mansura, LA 71350.
The event, which will be held on May 18, 2023 from 9 a.m. – 2 p.m., is aimed at providing resources to members of the older community.
"With a special focus on our seniors for this Community Health Event, we recognize they are the pillars of all communities around our state," said Jasmin Mathrews, Assistant Specialist of Public Health and Director of the Communities of Color Network at the Southern University Ag Center. "They face unique health concerns, and many barriers can prevent them from addressing those issues. We lessen some of these barriers by meeting them where they are and bringing much need resources and services to the heart of their community," she added.
This community health day will include health screenings, physical activities, free food, music, and much more.
"When it's your job to help people, you have clear evidence every day that you're making a difference. Plus, like most people of any age, seniors appreciate and look forward to opportunities for laughter and conversation," expressed Camellia Brown, SNAP-Ed Nutrition Educator and EFNEP Supervisor. "Studies also show that seniors participate more in activities where they can socially interact with similar age groups in the same communities. My job allows for me to make that possible along with providing the resources and information needed," said Brown.
The All of Us Research Program is a historic, longitudinal effort to gather data from one million or more people living in the United States to accelerate research and improve health. By considering individual differences in lifestyle, socioeconomics, environment, and biology, it is the hope that researchers will one day uncover paths toward delivering precision medicine – or individualized prevention, treatment, and care – for all of us.
The SU Ag Center serves as an engagement partner for the All of Us Research Program by bringing program awareness and education to historically underrepresented communities in our state.
For additional information, contact Camellia Brown at camellia_brown@suagcenter.com or Jasmin Mathews at jasmin_plowe@suagcenter.com.