SU Ag Center set to hold Men's Health Luncheon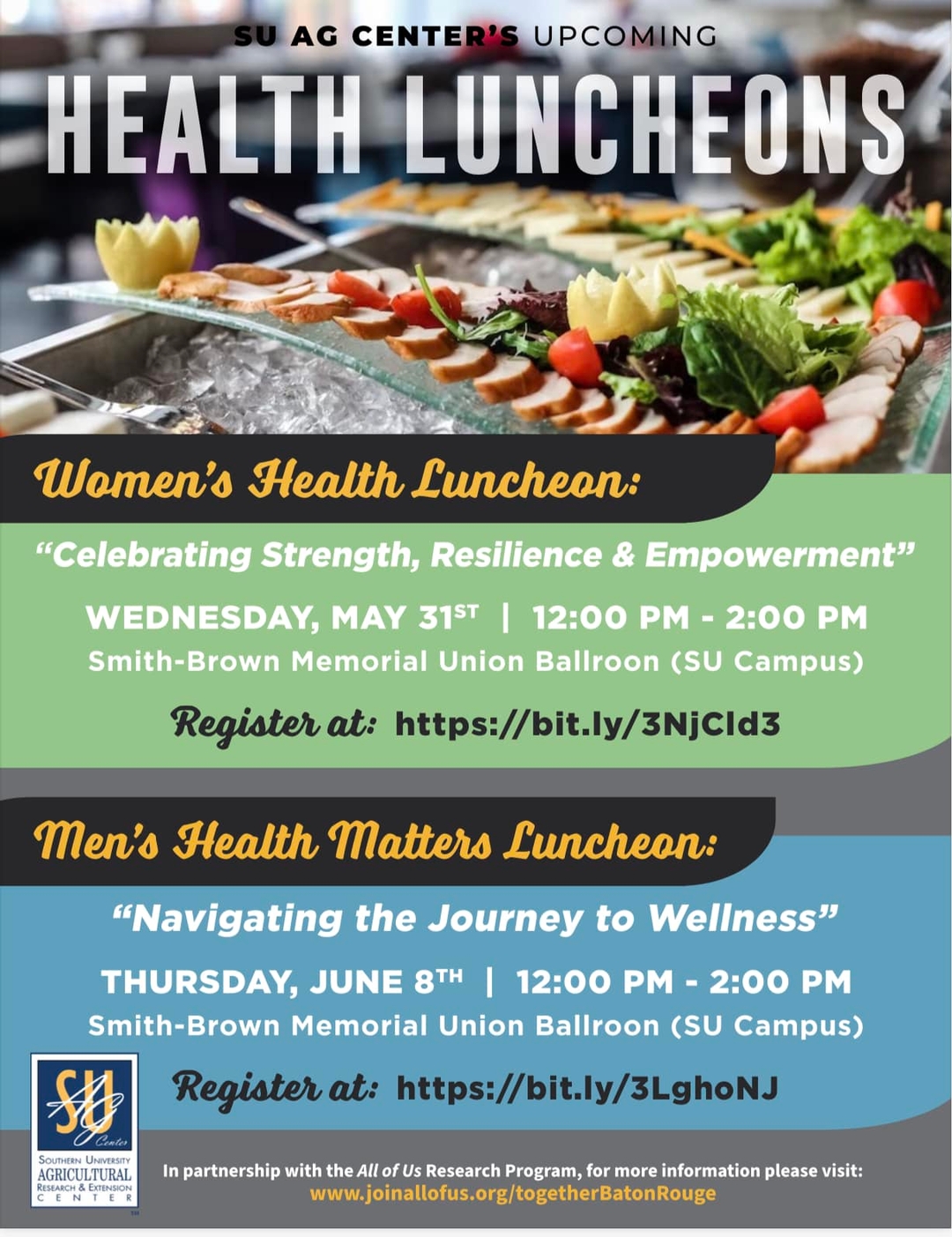 Baton Rouge, La. – The Southern University Ag Center, in partnership with the All of Us Research Program, will host a free men's health luncheon in observance of Men's Health Month.
The luncheon themed, "Navigating the Journey to Wellness," will be on June 8, 2023 from 12 p.m. – 2 p.m. in the Ballroom of the Smith-Brown Memorial Student Union on the campus of Southern University.
Topics covered during the event will include mental health, cardiology, gastro, and general men's health. Speakers will include James Wayne, M.D.; Aldo Russo, M.D.; Garland Green, M.D.; and Marlon Boutin.
"This luncheon aims to educate our audience on the importance of those health areas that impact them most," Jasmin Mathews, SU Ag Center Communities of Color Network Director and Public Health Assistant Specialist. "Participants will hear from experts in these specialties to promote healthy living and to encourage productive dialogue between provider and patient. When participants leave, they will have an understanding of a collective whole-body approach to health," added Mathews.
To register for the luncheon visit, https://bit.ly/3LghoNJ.
The All of Us Research Program is a historic, longitudinal effort to gather data from one million or more people living in the United States to accelerate research and improve health. By considering individual differences in lifestyle, socioeconomics, environment, and biology, it is the hope that researchers will one day uncover paths toward delivering precision medicine – or individualized prevention, treatment, and care – for all of us.
The SU Ag Center serves as an engagement partner for the All of Us Research Program by bringing program awareness and education to historically underrepresented communities in our state.
For additional information Jasmin Mathews at, jasmin_plowe@suagcenter.com.