SU Ag Center to host a Senior Health Day on Nov. 7, 2023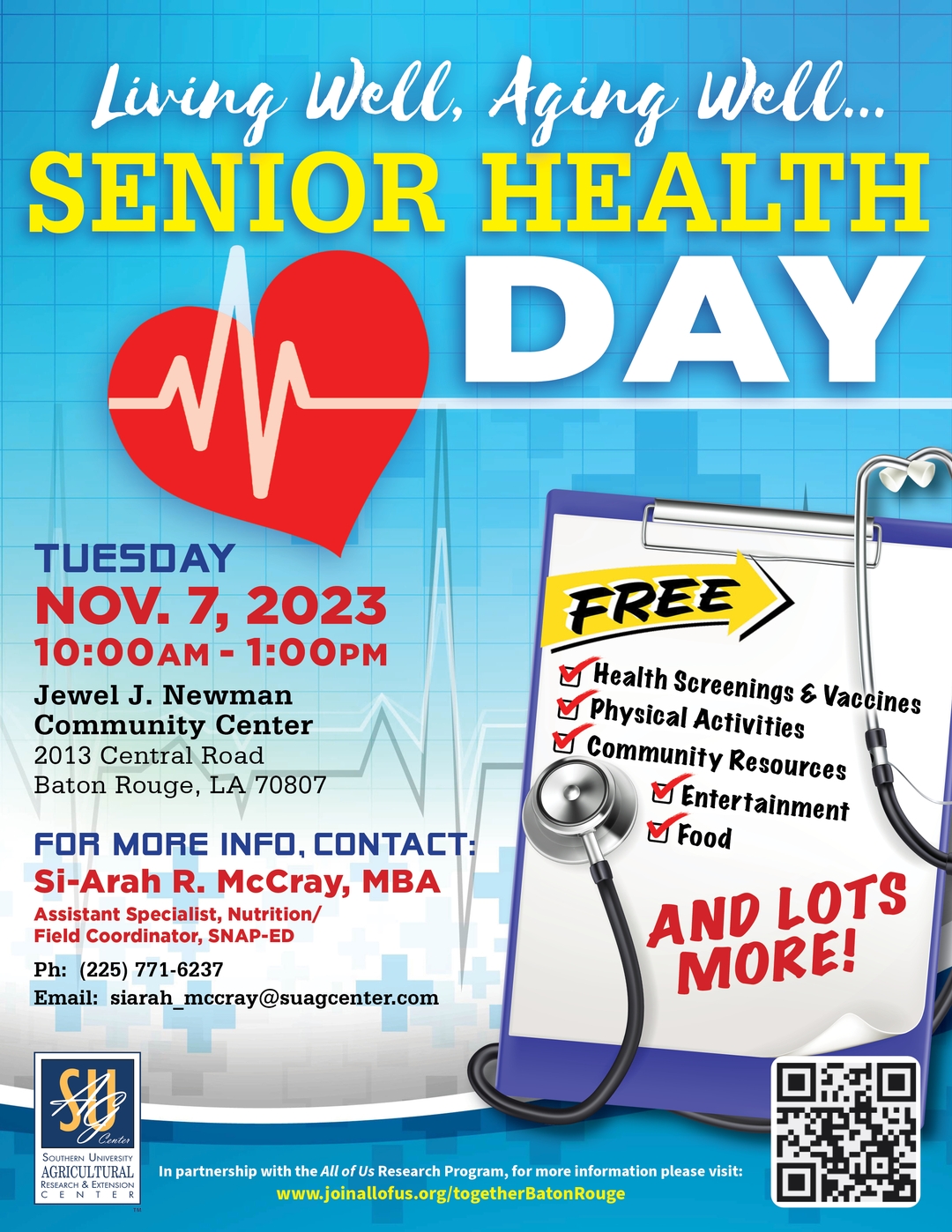 Baton Rouge, La. – The Southern University Ag Center, in partnership with the All of Us Research Program, will host a "Living Well, Aging Well Senior Health Day," on November 7, 2023, from 10 a.m. – 1 p.m. at the Jewel J. Newman Community Center, located at 2013 Central Road, Baton Rouge, LA.
The free senior health day will include free health screenings, food, live food demonstrations, chair yoga, free haircuts, bingo, and information on preventing falls, senior abuse, mentor health, and more.
A free produce giveaway will also be held during the event, on a first come, first served basis.
This health day is geared towards seniors, but the entire Baton Rouge community is invited to participate.
The All of Us Research Program is a historic, longitudinal effort to gather data from one million or more people living in the United States to accelerate research and improve health. By considering individual differences in lifestyle, socioeconomics, environment, and biology, it is the hope that researchers will one day uncover paths toward delivering precision medicine – or individualized prevention, treatment, and care – for all of us.
The SU Ag Center serves as an engagement partner for the All of Us Research Program by bringing program awareness and education to historically underrepresented communities in our state.
For additional information about the Senior Health Day, contact Si-Arah McCray, SU Ag Center Assistant Specialist for Nutrition and SNAP-Ed Field Coordinator at 225-771-6237 or siarah_mccray@suagcenter.com. For information on the All of the All of Us Research Program, visit www.joinallofus.org/togehterBatonRouge.