Dr. Yadong Qi Receives the President's Award of Appreciation from the Society of Municipal Arborists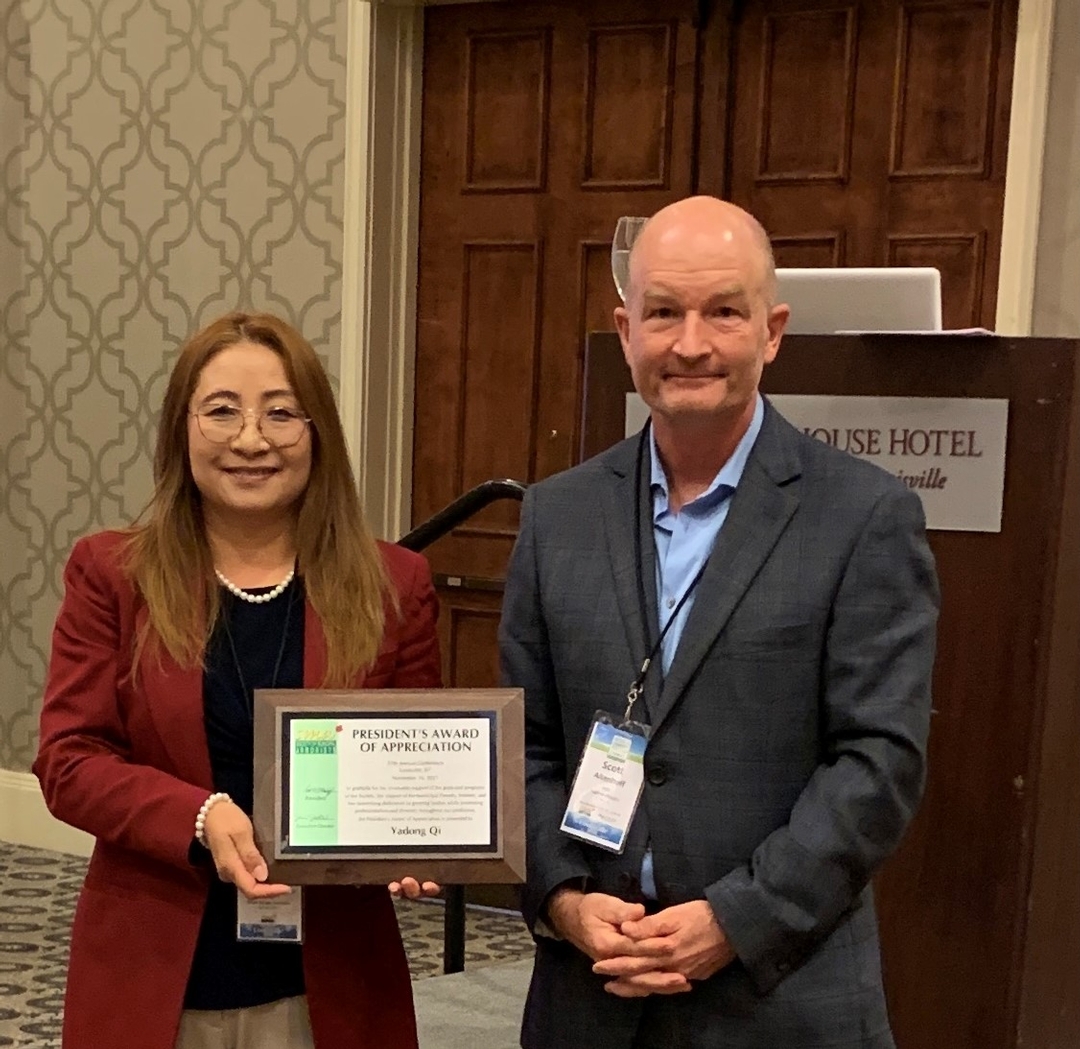 Baton Rouge, La. - Dr. Yadong Qi, Professor and Master's Program Leader in the College of Agricultural, Family and Consumer Sciences' Department of Urban Forestry, Environment, and Natural Resources, received the prestigious "President's Award of Appreciation" from the Society of Municipal Arborists (SMA) at the 57th Annual International Urban Forestry Conference and Trade Show in Louisville, KY on Nov. 16, 2021.
"This award is presented to Dr. Yadong Qi in gratitude for her invaluable support of the goals and programs of the Society, her support of the Municipal Forestry Institute, and her career-long dedication to growing leaders while promoting professionalism and diversity throughout our profession," said Scott Altenhoff, President of SMA.
"Congratulations, Dr. Qi! Well-deserved, you have been a tremendous partner and counsel to SMA as they continue their journey to build a more inclusive leadership program. The Diversity Municipal Forester Initiative Scholarship has been a game-changer," stated Beattra Wilson, MPA, Assistant Director for Urban & Community Forestry at the USDA Forest Service, State and Private Forestry.
"I am deeply humbled and honored to receive this prestigious professional recognition from SMA," expressed Dr. Qi. "I would like to dedicate this award to the successful partnerships and teamwork among Southern University, the Society of Municipal Arborists, and the USDA Forest Service in carrying out the Diversity in Municipal Forestry Institute (Diversity-in-MFI) for the past three years, which has made significant contributions to enhancing the national minority leadership training in urban and community forestry," she added.
SMA is an organization of municipal arborists and urban foresters. Its membership also includes consultants, commercial firms, nonprofits, tree boards, tree wardens, allied professionals, and citizens who actively practice or support some facet of municipal forestry. The organization was founded in 1964 and is a professional affiliate of the International Society of Arboriculture.
SMA strives to create networking and educational opportunities that promote the sound, professional management of a vital and invaluable resource through its magazine, City Trees, conferences, website, and many active members.
For additional information on the Department of Urban Forestry, Environment, and Natural Resources click here.