USDA Deputy Secretary of Agriculture Dr. Jewel Bronaugh visits the SU Ag Center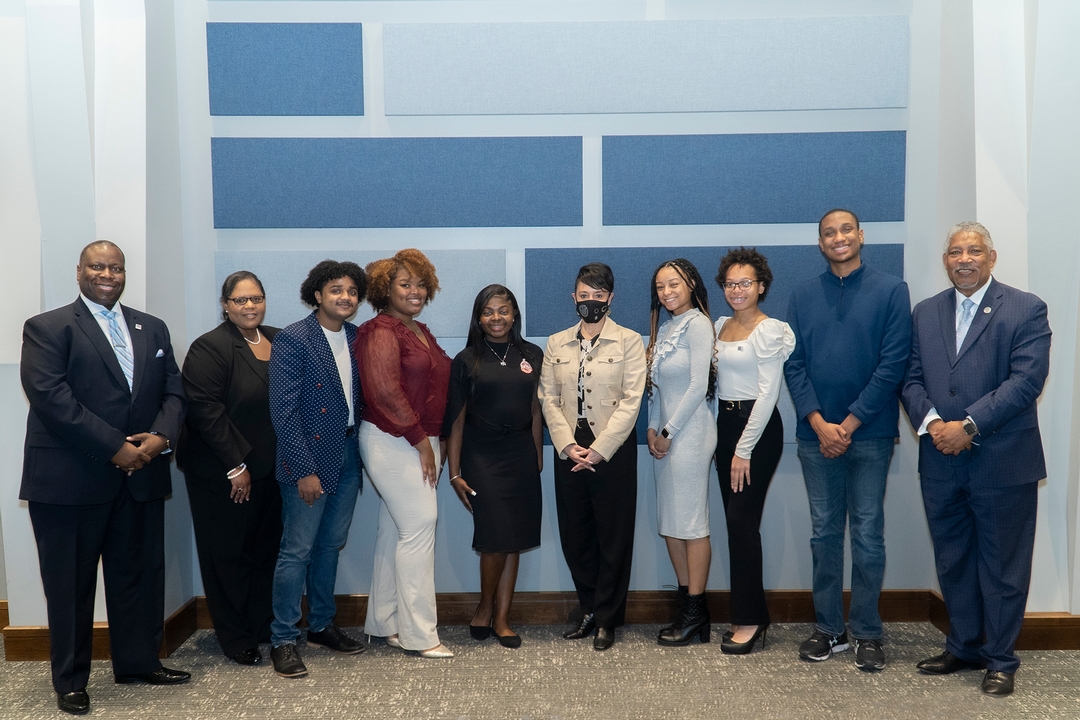 Baton Rouge, La. – Dr. Jewel Bronaugh, USDA Deputy Secretary of Agriculture visited with students and the administration of the Southern University Ag Center and the College of Agricultural, Family and Consumer Sciences (CAFCS) on February 10, 2022.
"I'm absolutely delighted to be at one of the premier 1890 land-grant institutions here at Southern," said Dr. Bronaugh. "I'm here from USDA because we have very important partnerships with Southern University. We make investments, as does Southern University, in our 1890 Scholars Program and we have students who, because of our investments, can get a full ride to an 1890 land-grant and an internship experience at USDA. Hopefully, to create a pipeline into USDA."
Dr. Bronaugh spoke one-on-one with several of Southern's USDA 1890 Scholars during a luncheon held at the Valdry Center for Philanthropy on Southern's campus. She also visited several classes and spoke with students enrolled in Family and Consumer Sciences, Urban Forestry, and toured the Southern University Child Development Laboratory.
"I am so impressed with the students that I have met today and I'm really hoping that they will become future USDA employees," said Dr. Bronaugh. "We look forward to partnering with Southern on their Extension work, their research work, and of course your incredible students here. So I'm just delighted to talk about how we can continue those partners," she added.
"We are honored to have Dr. Jewel Bronaugh visit with the Southern University Ag Center in her capacity as the Deputy Secretary of the USDA," said Dr. Orlando F. McMeans, Chancellor of the Southern University Ag Center and Dean of the CAFCS. "This visit allowed us to have discussions around shared priorities in the areas of sustainability, climate-smart agriculture, capacity building for small and disadvantaged farmers and building the agricultural workforce of the future. This visit also reaffirms and reinforces the partnership between the USDA and Southern University," stated Dr. McMeans.
Bronaugh ended her visit by speaking with several small farmers. She discussed her role as the Deputy Secretary of Agriculture and provided information on the USDA's programs for small farmers including the debt relief program. The small farmers were also provided time to express some of their concerns and needs to Dr. Bronaugh such as more locations to sell their produce, the need for additional processing locations for their animals within the state, and a need for additional specialized USDA agents.
"Deputy Secretary Bronaugh reaffirmed the USDA's commitment to the USDA 1890 partnership and USDA's intentions to listen to and address the concerns and challenges of our rural citizens, collaboratively with the 1890 land grant universities nationwide," said Allison Johnson, USDA National Outreach Coordinator-East. "USDA's commitment to better serve "the people" was certainly a priority during this visit, I'm excited to witness the long-term results of this commitment," added Johnson.
Dr. Bronaugh was confirmed as the Deputy Secretary of the U.S. Department of Agriculture on May 13, 2021. She is the first Black woman and woman of color to serve in this position. Prior to her current appointment, Dr. Bronaugh was the 16th Commissioner of the Virginia Department of Agriculture and Consumer Services in 2018. She also served as the Virginia State Executive Director for the USDA Farm Service Agency (FSA), an appointment made by Governor Terry McAuliffe and then-U.S. Secretary of Agriculture, Tom Vilsack, in July 2015.
Bronaugh also served as Dean of the College of Agriculture at Virginia State University (VSU) with oversight of Extension, Research and Academic Programs and Associate Administrator for Extension Programs and a 4-H Extension Specialist.
Dr. Bronaugh earned a Ph.D. in Career and Technical Education from Virginia Tech.