SU Ag Center participates in the inaugural A&M Showcase for Middle & High Schoolers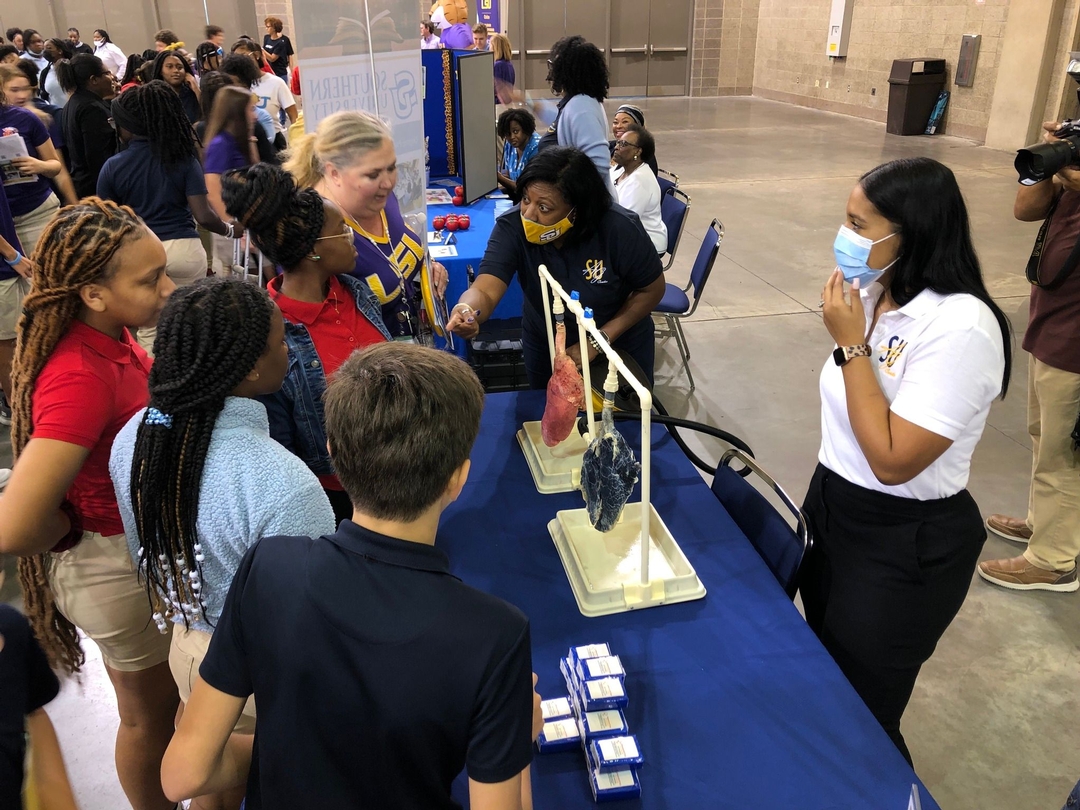 Baton Rouge, La. – The Southern University Ag Center and Southern University, along with the Louisiana State University and the LSU Ag Center came together at the Raising Cane's River Center on September 7, 2022 to co-host the A&M Showcase for middle and high school students from the nine parish capital region.
Approximately 2,000 students attended the event, which was held to promote awareness and access to college ahead of the historical football game between Southern University and LSU on September 10.
"The purpose of the overall slate of events is to demonstrate that Southern University and LSU bring so much more to this community beyond athletics, specifically football. The A&M Showcase is being held to introduce ourselves to what I like to call the future college scholars," said Brandon Smith, event organizer and assistant vice president of strategy and community relations at LSU.
"They are 8th and 9th graders right now but they will be applying to one of our campuses very soon and we can't assume that because they live in the Greater Baton Rouge Area's nine parish region, they have been to the campuses of Southern University or LSU. Thousands of our children have never been to either one of our campuses," stated Smith. "Athletics is a great ambassador for the universities but we want to be more intentional by letting these future college scholars know that we offer so much more than that and we are here to spark their intellectual curiosity today," he added.
The showcase included more than 100 exhibits featuring information on many of the universities' majors and programs offered by the ag centers.
This event is one of several planned to demonstrate the universities' partnership leading up to the September 10 game.
"LSU and Southern University have already been partnering and what we realized is that we need to do a better job of telling our story about how our ag centers work together, how our Colleges of Education have been collaborating, and how our faculty have been conducting research together," said Smith.

Additional events occurring during the week will include a "Coffee & Conversation" academic roundtable with Southern University Provost Bijoy Sahoo and LSU Executive Vice President & Provost Roy Haggerty at Southern's Valdry Center for Philanthropy at 8 a.m. on September 8.
From 9 a.m. – 1 p.m. on September 9, the two universities will co-host a leadership conference with the Baton Rouge Mayor's Office and the U.S. Small Business Administration at the Capitol Park Museum. The conference is designed to empower current and aspiring business leaders from both institutions and will include keynote speakers from LSU and Southern University alumni in business, including Resilia CEO Sevetri Wilson, SBA Region VI Administrator Ted James, and Raising Cane's CEO Todd Graves.