Nat Geo's Critter Fixers visit Southern University during Vet for a Day College Tour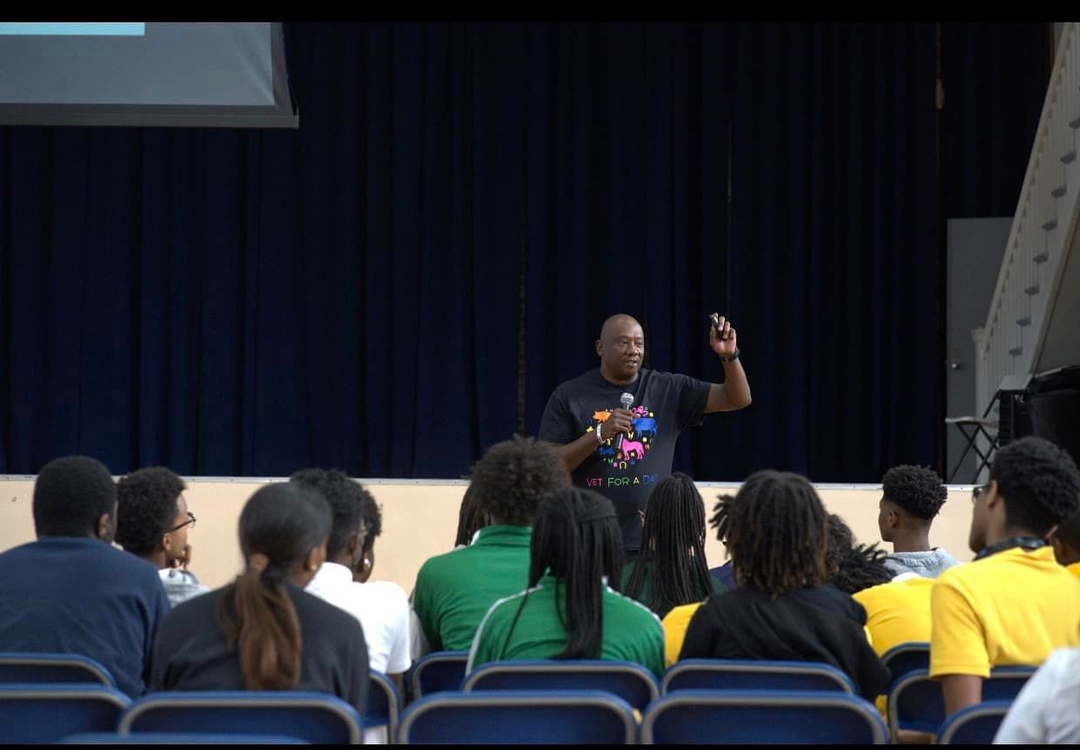 Baton Rouge, La. – Terrence Ferguson, DVM, one of the Nat Geo Wild's famous veterinarian duo in the show, Critter Fixers: Country Vets, visited the Southern University campus on November 4 as a part of the show's Vet for a Day college tour.
The event was open to Southern University College of Agricultural, Family and Consumer Sciences students, high school students, and veterinary and agricultural professionals.
Dr. Ferguson began his presentation by deputizing the students into official veterinarians during his 35-40 minute presentation titled, "Case Study, Veterinary Medicine: What's It All About?" He then introduced the students to their first patient, an 8-year-old Maltese who was suffering from frequent urination.
The students were asked if they could name the medical instruments needed to examine the animal, the organs that were not functioning properly, and the proper steps that needed to be taken to diagnose the animal. Ferguson also showed the students an x-ray of the dog to see if anyone could spot anything unusual. After viewing the x-ray, the students asked Ferguson to explain what the cauliflower-shaped image was in the x-ray. He explained that the image showed the dog had bladder stones or Urolithiasis. He went on to discuss the treatment for the animal and held and question and answers session with the students.
Ferguson also participated in a panel discussion with College of Ag alums Tyra Davis Brow, DVM, Associate Professor of Animal Science in the CAFCS, Renita Marshall, DVM, Vice Chancellor for Academic & Student Services/ Associate Dean College of Agricultural, Family and Consumer Sciences, and Ted Sanders, DVM. The panelists shared personal experiences about why they wanted to become veterinarians, how they overcame some of the challenges they faced, and provided tips for students who were interested in going to a school of veterinary medicine.
Dr. Sanders also discussed Zoetis and Henry Green, DVM, Associate Professor of Veterinary Cardiology at the LSU School of Veterinary Medicine spoke to the students about the summer Diversity Experience for students interested in careers in Vet Med and how they can get involved. Several SU students who participated in the program also shared their experiences and demonstrated how to do CPA on a dog.
The event concluded with the students visiting several College of Ag and SU Ag Center booths that contained information about degree programs and opportunities available through the Ag Center.
For information about the College of Agricultural, Family and Consumer Sciences Agricultural Sciences Pre-Veterinary Medicine program, contact Dr. Harold Mellieon, Jr. at harold_mellieon@subr.edu.