SU Ag Center celebrates its 80th Annual Livestock Show and Poultry Show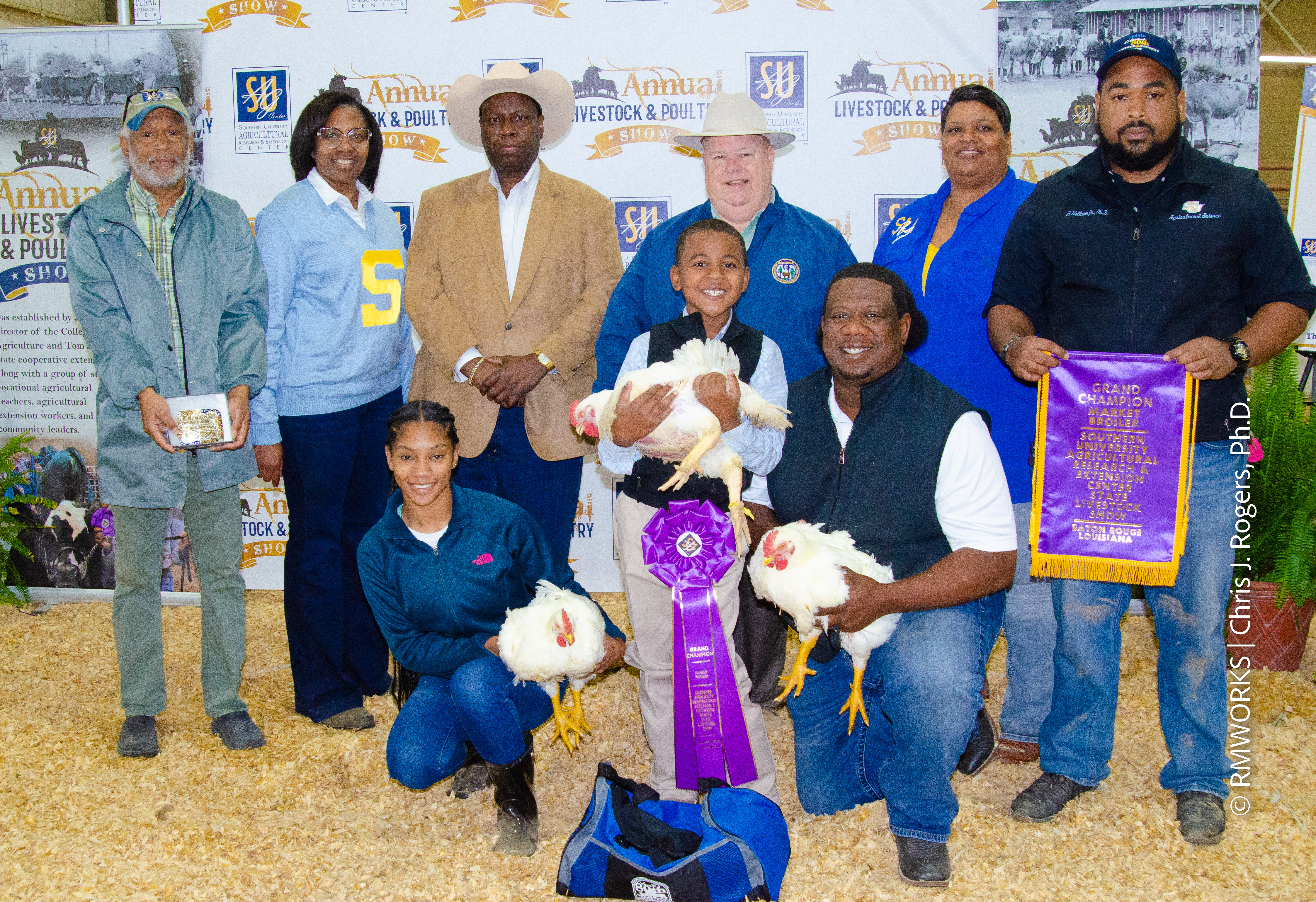 Baton Rouge, La. – For 80 years, the Southern University Ag Center has continued the tradition of providing an opportunity for youth, throughout Louisiana, to gain valuable knowledge and skills at its Annual State Livestock and Poultry Show. The show was held March 2 - 4, 2023, at the Maurice A. Edmond Livestock Arena.
To qualify for the state show, competitors had to have won first place at a parish livestock show.
The following is a list of winners in various livestock and poultry categories and their home parishes. Each winner received a premium, ribbon, rosette, and trophy belt buckle.
Market Goats
Grand Champion - Jermaine Pitts, St. Helena Parish
Reserve Champion - Jermaine Pitts, St. Helena Parish
Market Goat Showmanship
Grand Champion - Ethan Butts, Bossier Parish
Reserve Champion - Faith Reyenga, Bossier Parish
Market Lamb
Grand Champion - Ebbie Hulin, Vermillion Parish
Reserve Champion - Charlotte Chitwood, Acadia Parish
Market Lamb Showmanship
Grand Champion - Faith Reyenga, Bossier Parish
Reserve Champion - Ethan Butts, Bossier Parish  
Market Lamb (LA Bred)
Champion - Charlotte Chitwood, Acadia Parish
Reserve Champion - Brooklyn Whetstone, Tangipahoa Parish
Market Broiler
Grand Champion - Sarah Tyson, West Feliciana Parish
Reserve Champion - Ty Sam, St. Landry Parish
Market Hog
Grand Champion - Brodie Dicharry, St. James Parish
Reserve Champion - Cannon Johnson, Natchitoches Parish 
Market Hog Showmanship
Grand Champion - Brodie Dicharry, St. James Parish
Reserve Champion - Emma Bush, West Feliciana, Parish
Commercial Heifer
Grand Champion - Addieleshia Lunzy, St. Helena Parish
Reserve Champion - Javianna Franklin, St. Helena Parish
Brahman  Heifer
Grand Champion - Emma Bush , West Feliciana, Parish
Reserve Champion - Olivia Ainsworth, Catahoula, Parish
Non-Brahman Bull  
Grand Champion – Kenzington Primm, Caddo, Parish
Reserve Champion – Kenzington Primm, Caddo, Parish
Braham Bull
Grand Champion – Georgia Knight, East Baton Rouge Parish
Reserve Champion – Alaine Ainsworth, Catahoula Parish
Market Steers
Grand Champion - Cor'Layzia Rogers, Tangipahoa Parish
Reserve Champion - Ivy Delatte, Lafourche Parish
Commercial Dairy
Grand Champion - Georgia Knight, East Baton Rouge Parish
Reserve Champion  - Bacey Pritchett, Winn Parish