The SU College of Ag will celebrate Ag Week March 20-25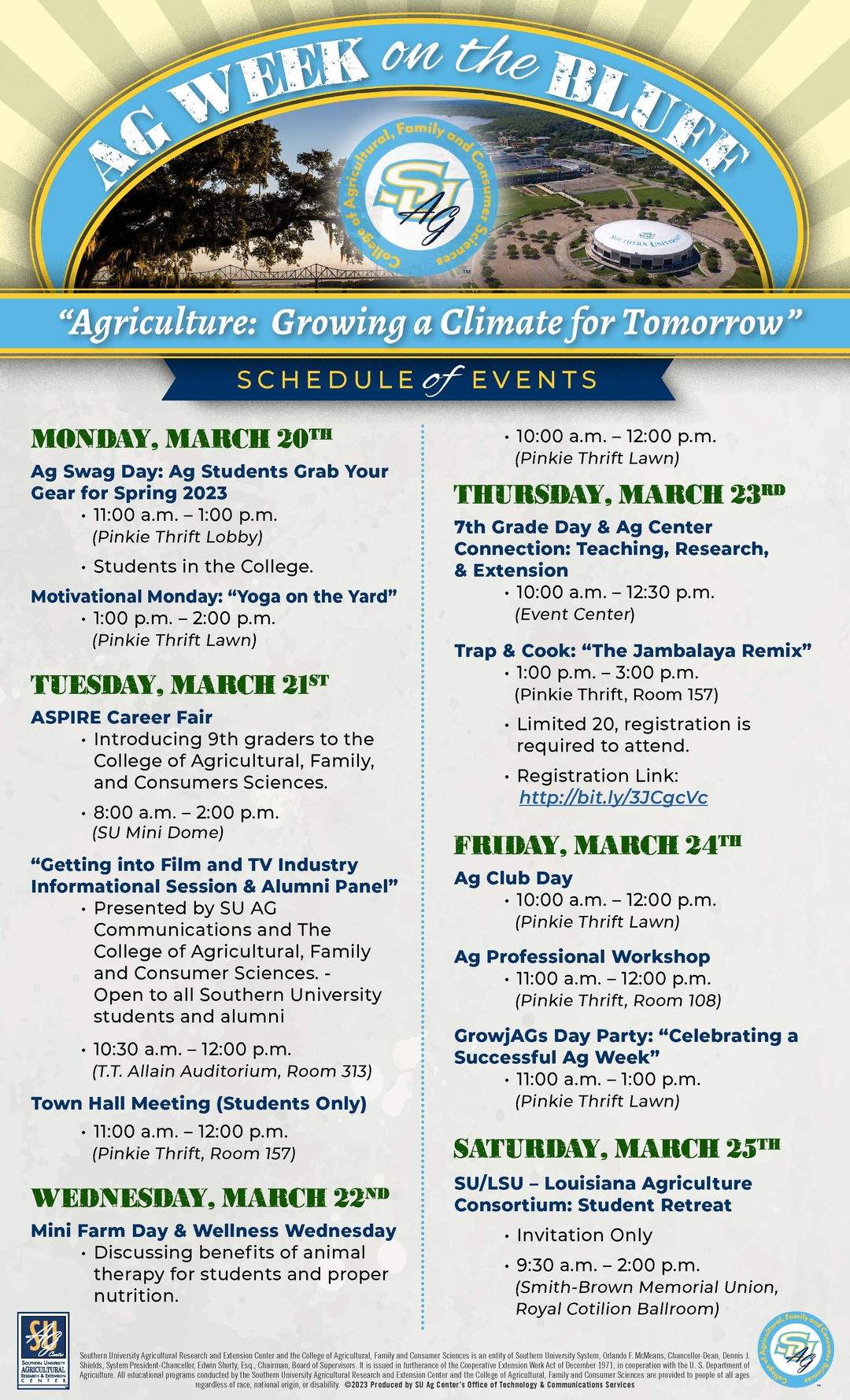 The Southern University College of Agricultural, Family and Consumer Sciences (CAFCS) will host its annual Ag Week On The Bluff beginning Monday, March 20 and ending Saturday, March 25, 2023. The theme of the week is "Agriculture: Growing A Climate for Tomorrow." Attendees can expect a jam-packed week, full of various activities.
Events will kick off on Monday, March 20, with Ag Swag Day. Students in the College of Ag are asked to stop by the lobby of Pinkie Thrift Hall to grab some Ag gear from 11 a.m. to 1 p.m., followed by Motivational Monday: Yoga on The Yard in room 108 of Pinkie Thrift Hall from 1 p.m. to 2 p.m.
Activities on Tuesday, March 21, will begin at 8 a.m. with the ASPIRE Career Fair, which will introduce high school freshmen to the CAFCS. This event will be held in the Felton G. Clark Activity Center and will end at 2:00 p.m. While the Career Fair is going on, there will be a Getting into the Film and TV Industry Informational Session and Alumni Panel at 10 a.m. in room 313 of T.T. Allain Hall. A SU student-only Town Hall Meeting will also be held at 11 a.m. in room 157 of Pinkie Thrift Hall.
There will be a Mini Farm Day and Wellness Wednesday event on Wednesday, March 21 from 10 a.m. until 12 p.m. on the lawn of Pinkie Thrift Hall. This event will discuss the benefits of animal therapy and proper nutrition for students.
Seventh Grade Day and Ag Center Connection: Teaching, Research, and Extension will be held on March 23 from 10 a.m. – 12:30 p.m. at the Event Center, followed by Trap and Cook: The Jambalaya Remix at 1 p.m. in room 157 of Pinkie Thrift Hall. There is a limit of 20 people for the Trap and Cook event and registration is required. To register visit, http://bit.ly/3JCgcVc.
There will be an Ag Professional Workshop in room 108 of Pinkie Thrift Hall on March 24 at 11 a.m. An Ag Club Day and GrowjAGS Day Party will be held on April 20, 2023. These events were originally scheduled to be held on March 24 but were postponed due to the threat of inclement weather.
On the last day of Ag Week, Saturday, March 25, SU and LSU students will participate in the Louisiana Agriculture Consortium: Student Retreat. This invitation-only event will begin at 9:30 a.m. in the Cotillion Ballroom of the Smith-Brown Memorial Union.
For additional information on Ag Week, contact Keandrys Dalton at Keandrys_dalton@suagcenter.com.